The Good Life: Helen and Scott Nearing's Sixty Years of Self-Sufficient Living (Paperback)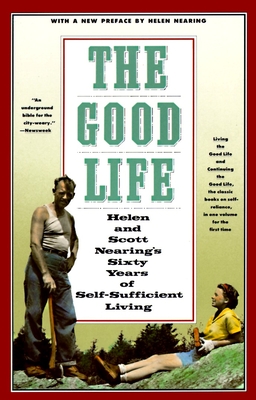 Staff Reviews
---
The Good Life is THE Back-to-the-Land bible. During the Depression the Nearings became disillusioned with the wage labor economy and sought out an alternate way to live, buying a run down farm in the Green Mountains of Vermont and starting a life based on self-sufficiency, shared work and freedom from the 9-5. Their memoir of 60+ years of living off the land is as inspiring today as it was when it was first published.
— Emily
Description
---
This one volume edition of Living the Good Life and Continuing the Good Life brings these classics on rural homesteading together. This couple abandoned the city for a rural life with minimal cash and the knowledge of self reliance and good health.
About the Author
---
In 1932, SCOTT AND HELEN NEARING moved from New York City to rural New England. Over the next 60 years, the Nearings developed a system of living called "the good life," a Waldensian effort to be as self-sufficient and green as possible. They inspired others to do the same, and were involved in many social causes of their day. Despite his dedication to the good life, Scott was a radical economist, educator, writer, and political activist, and may be best known for his book, The Making of a Radical. The Nearings lived on earnings from the maple syrup and sugar they produced, and proceeds from Scott's lectures.
Praise For…
---
"Helen and Scott Nearing are the great-grandparents of the back-to-the-land movement, having abandoned the city in 1932 for a rural life based on self-reliance, good health, and a minimum of cash. . . . Fascinating, timely, and wholly useful, a mix of the Nearings' challenging philosophy and expert counsel on practical skills."
—The Washington Post Book World

"A prophetic account of the creation of a self-sufficient little Walden . . . that has been an underground bible for the city-weary."
—Newsweek 

"The Nearings are plain daylight, solid prose, sound information."
—The New York Times Book Review 

"As close to a Walden for out times as we're likely to see."
 —Yankee Magazine