The Book of Unconformities: Speculations on Lost Time (Hardcover)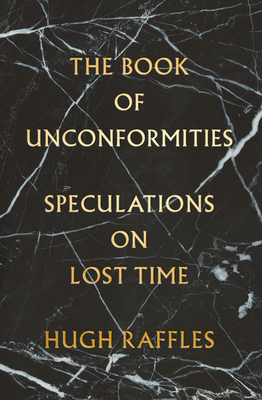 Staff Reviews
---
Here's what I wrote of the book on Lithub's 2020 year-end wrap up:
Nothing I read in this year of strange and disjointed time resonated with me as profoundly as Hugh Raffles's haunting meditation on grief and stone. The Book of Unconformities is not a straightforward study of geology or memoir of loss; it's not even a straightforward entwining of the two. Raffles, an anthropologist, fashions a set of narratives that blur boundaries and disciplines through digression and exquisitely long sentences that render the world, as in W.G. Sebald's novels, simultaneously clarified and enshrouded. I hope more people come to this book. It is a masterpiece.
Description
---
From the author of the acclaimed Insectopedia, a powerful exploration of loss, endurance, and the absences that permeate the present
 
When Hugh Raffles's two sisters died suddenly within a few weeks of each other, he reached for rocks, stones, and other seemingly solid objects as anchors in a world unmoored, as ways to make sense of these events through stories far larger than his own.
 
A moving, profound, and affirming meditation, The Book of Unconformities is grounded in stories of stones: Neolithic stone circles, Icelandic lava, mica from a Nazi concentration camp, petrified whale blubber in Svalbard, the marble prized by Manhattan's Lenape, and a huge Greenlandic meteorite that arrived with six Inuit adventurers in the exuberant but fractious New York City of 1897.
 
As Raffles follows these fundamental objects, unearthing the events they've engendered, he finds them losing their solidity and becoming as capricious, indifferent, and willful as time itself.
About the Author
---
HUGH RAFFLES is the author of Insectopedia, which was a New York Times Notable Book and received the Orion Book Award and the Ludwik Fleck Prize of the Society for Social Studies of Science, and of In Amazonia: A Natural History which received the Victor Turner Prize in Ethnographic Writing. His essays have appeared in Best American Essays, Granta, Orion, and The New York Times, and he is the recipientof the Whiting Award for nonfiction. He lives in New York City and is professor of anthropology at The New School.
Praise For…
---
"Among the most mysterious books I've ever read—a dense, dark star . . . Profoundly random . . . What intuition the book requires, what detective work—and what magic tricks it performs. Stones speak, lost time leaves a literal record and, strangest of all, the consolation the writer seeks in the permanence of rocks, in their vast history, he finds instead in their vulnerability, caprice and still-unfolding story."
—Parul Sehgal, The New York Times

"In a high-voltage jolt of insight, Mr. Raffles converts what might seem a dry scientific concept into a potent literary metaphor to help anyone whose sense of time has been fractured by loss . . . [The Book of Unconformities] is so rich in erudition and prose-poetry that I read it like a glutton, tearing off big bites of lost time until I was sated . . . Vivid . . . Exquisite . . . A poignant and healing descent into deep time and its relevance to the human experience."
—Robert M. Thorson, Wall Street Journal

"A spellbinding time travelogue . . . Raffles's dense, associative, essayistic style mirrors geological transformation, compressing and folding chronologies like strata in metamorphic rock . . . Mesmerizing."
—Harpers Magazine

"A work of poetic science, a smashing together of the human and the natural world, of cultures separated by time. Just as a geologic unconformity, this is erudite and artistic."
—Library Journal

"Poetic . . . Each section is packed with vivid entertaining tales . . . The text shimmers with rangy curiosity, precise pictorial descriptions, well-narrated history, a sympathetic eye for the natural world, and a deft, light scholarly touch. The mood is as unpredictable as next week's weather, as Raffles remains keenly attuned to the politics and personalities that move the action along. As panoptical and sparking as the crystal contained in many of the author's objects of study."
—Kirkus Reviews (starred)

"How much we learn in this exhaustively researched book on the peoples of precolonial Manhattan, Neolithic Hebrides, Greenland, Svarlbard!  And of the bedrock upon which they lived, the stones that shot up from the bowels of earth and crashed from outer space, petrified from animals and plants, cut and carved."
—Alphonso Lingis, author of Dangerous Emotions