The Search for the Genuine: Nonfiction, 1970-2015 (Hardcover)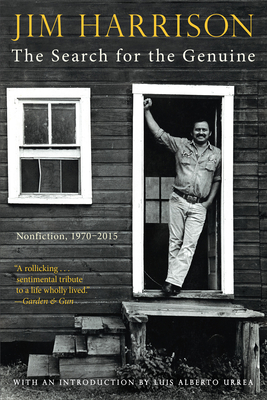 Description
---
The first general nonfiction title in thirty years from a giant of American letters, The Search for the Genuine is a sparkling, definitive collection of Jim Harrison's essays and journalism--some never before published
New York Times-bestselling author Jim Harrison (1937-2016) was a writer
with a poet's economy of style and a trencherman's appetites. Praised as a
"national treasure" (Chicago Tribune) and published in twenty-seven languages, he was one of
this country's most beloved and critically acclaimed authors. Best known for
his poetry and fiction such as Legends of the
Fall, Dalva, and Returning
to Earth, Harrison was also a prolific
nonfiction writer, with columns running in Sports
Illustrated and Esquire,
and work in Outside, Field & Stream, and others. The first collection of Harrison's general
nonfiction in thirty years, The
Search for the Genuine is a
sparkling, definitive volume of essays and journalism--from the near-classic to
the never-published.
With his trademark ribald humor,
compassion, and full-throated zest for life, The
Search for the Genuine pays
tribute to writers from Bukowski to Neruda to Peter Matthiessen, and examines
the distance between literary reputation and the work itself; he attains
something like satori in the field hunting grouse; he reports on Yellowstone
for the park's hundredth anniversary, when he was merely a tourist to the part
of Montana he would eventually call home; he takes to the open sea in pursuit
of roosterfish, marlin, tarpon, and, once, to observe a scientific mission
tagging sharks; he delivers a heartbreaking essay on life--and, for those
attempting to cross in the ever-more dangerous gaps, death--on the US-Mexico
border. Always he comes back to the spirit and to connection with the natural
world and the people who sustained him; throughout the book his feeling for the
American landscape rings out.
Lovingly introduced by acclaimed
novelist, poet, and essayist Luis Alberto Urrea, The Search for the Genuine is a feast that captures a lifetime of reading, writing,
and living to the fullest, from a true "American original" (San Francisco Chronicle).
About the Author
---
JIM HARRISON (1937-2016) was the author of thirty-nine other works of poetry, nonfiction, and fiction, including Legends of the Fall, The Road Home, Returning to Earth, and The English Major. A member of the American Academy of Arts and Letters and winner of a Guggenheim Fellowship, he had work published in twenty-seven languages.