Your Blood Never Lies: How to Read a Blood Test for a Longer, Healthier Life (Paperback)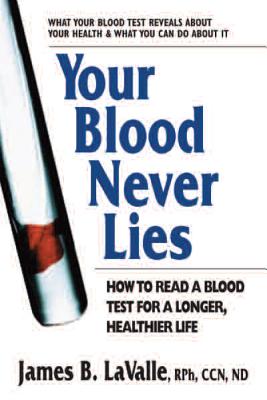 $16.95

Not On Our Shelves Now (Usually Ships in 1-5 Days)
Description
---
​*** OVER 47,000 COPIES SOLD ​***
If you're like most people, you probably rely on your doctor to interpret the results of your blood tests, which contain a wealth of information on the state of your health. A blood test can tell you how well your kidneys and liver are functioning, your potential for heart disease and diabetes, the strength of your immune system, the chemical profile of your blood, and many other important facts about the state of your health. And yet, most of cannot decipher these results ourselves, nor can we even formulate the right questions to ask about them--that is, until now. In
Your Blood Never Lies
,
best-selling author Dr. James LaValle clears the mystery surrounding blood test results. In simple language, he explains all the information found on a typical lab report--the medical terminology, the numbers and percentages, and the laboratory jargon--and makes it accessible. This means that you will be able to look at your own blood test results and understand the significance of each biological marker being measured. To help you take charge of your health, Dr. LaValle also recommends the most effective standard and complementary treatments for dealing with any problematic findings. Rounding out the book are explanations of lab values that do not appear on the typical blood test, but that should be requested for a more complete picture of your current physiological condition. A blood test can reveal so much about your body, but only if you can interpret the results.
Your Blood Never Lies
provides the up-to-date information you need to take control of your health.