No One Belongs Here More Than You: Stories (Paperback)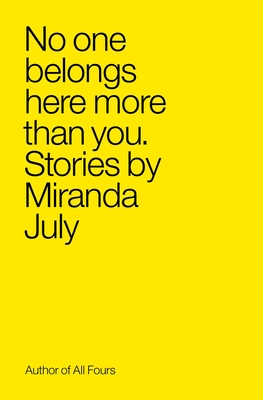 List Price: $16.99
Our Price: $16.00
(Save: $0.99 6%)
Description
---
Named a Top Ten Book of the Year by Time, the bestselling debut story collection by the extraordinarily talented Miranda July, award-winning filmmaker, artist, and writer.

In No One Belongs Here More Than You, Miranda July gives the most seemingly insignificant moments a sly potency. A benign encounter, a misunderstanding, a shy revelation can reconfigure the world. Her characters engage awkwardly—they are sometimes too remote, sometimes too intimate. With great compassion and generosity, July reveals her characters' idiosyncrasies and the odd logic and longing that govern their lives. No One Belongs Here More Than You is a stunning debut, the work of a writer with a spectacularly original and compelling voice.
About the Author
---
Miranda July is a writer, filmmaker, and artist. Her debut novel, The First Bad Man, was an instant New York Times bestseller, and her collection of stories, No One Belongs Here More Than You, won the Frank O'Connor International Short Story Award and has been published in twenty-three countries. Her writing has appeared in The Paris Review, Harper's, and The New Yorker, and she is also the author of the novel All Fours. July lives in Los Angeles.
Praise For…
---
"These stories are incredibly charming, beautifully written, frequently laugh-out-loud funny, and even, a dozen or so times, profound. Miranda July is a very real writer, and has one of the most original voices to appear in fiction in many years. Fans of Lorrie Moore should rub this book all over themselves – she's got that perfect balance of humor and pathos. There has been no more enjoyable and promising a debut collection in many a moon."—Dave Eggers

"These delightful stories do that essential-but-rare story thing: they surprise. They skip past the quotidian, the merely real, to the essential, and do so with a spirit of tenderness and wonder that is wholly unique. They are (let me coin a phrase) July-esque, which is to say: infused with wonder at the things of the world."—George Saunders, author of Lincoln in the Bardo

"Miranda July's is a beautiful, odd, original voice – seductive, sometimes erotic, and a little creepy, too." —David Byrne

"A woman gives swimming lessons in her kitchen – of course! Miranda July can make anything seem normal in these truly original stories. She has first-rate comic timing and a generous view of the human condition. Maybe best of all, there's joy here, too, often where you would not expect to find it."
—Amy Hempel, author of The Collected Stories of Amy Hempel

"These stories are swift aching, almost unbearably intense flares of emotion and lyrical language, sent out into the existential darkness of everyday life. July's characters are orphans and runaways and misfits, insecure, lost and lonely, but they do their best to find that last remaining scintilla of strength in each other and in themselves."—Time magazine

"[July's] worlds feel real and surreal and desperately sad and filled with what one character calls 'secret joy,' at the same time."—The Seattle Times

"Who will Miranda July's work appeal to? To borrow the name of her lovely first film, Me and You and Everyone We Know."—Entertainment Weekly

"Miranda July is graced with an unabashed love for the basic humanity of her characters."—The New York Observer

"[An] astonishingly good collection of short stories."—Vogue

"Miranda July has a true intimacy with damaged hearts."—Time Out New York

"Whimsical…extraordinary tales…at the core of each strange, often comic tale lies the basic human need for love and understanding."—The Village Voice

"July is near perfect here, writing with empathy and sweetness and drawing humor from the itchily uncomfortable."—Los Angeles magazine

"Earnest, to tales of love."—Slate

"July's stories are sexy and fast… Her characters are a new lost generation."—O, The Oprah Magazine

"July's quicksilver fiction is always surprising, and it takes pains to remind us that, somehow, we all belong somewhere."—The Miami Herald

"July's tales roll out epiphanies so exquisite and bizarre, they'll change the way you view life."—

Jane

"There is a marked new maturity in these stories—a determination not just to chronicle her characters' obsessions and idiosyncrasies, but also to understand the purpose they serve."—New York magazine

"July has an unmistakable voice: earnest, funny, emotionally charged."—Details

"Rich and lyrical…playful and devastating…wonderfully accessible yet undeniably poetic."—Zink

"Devastatingly personal…curiously uplifting."—The Salt Lake Tribune

"At once reflective, sexual, funny, and sad. It's a non sequitur, but not nonsensical…Her writing exudes a (false) simplicity as contagious and dangerous a model in the hands of less capable writers as the works of Raymond Carver…These stories are marked by an imagination that conjures the incredible, renders it mundane (often through sex) and captures an emptiness of modern spirit."—The Oregonian

"Touching on both the mundane and the provocative…[these stories] are written with July's frank perspective and an emotional eye for detail."—The Sacramento Bee