The Witch Elm: A Novel (Paperback)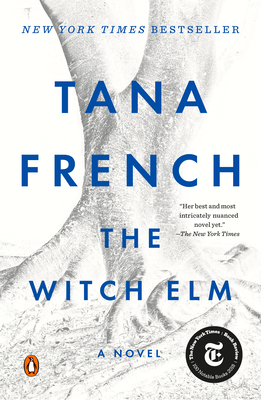 October 2018 Indie Next List
---
"Reading Tana French means disappearing into another life for a while. Her stories aren't meant to be slick or flashy, but deliberate, intricate studies of characters and their motivations. The Witch Elm is no different, as it follows the unraveling of Toby starting the night he surprises two burglars in his apartment. As you learn the secrets and weaknesses of Toby and his family, you begin to realize that while finding out what happened is enjoyable and surprising, finding out the how and the why is even better."
— Tyler Goodson, Avid Bookshop, Athens, GA
Description
---
A New York Times bestseller and a Best Book of 2018 by NPR, The New York Times Book Review, Amazon, The Boston Globe, LitHub, Vulture, Slate, Elle, Vox, and Electric Literature

"Tana French's best and most intricately nuanced novel yet." —The New York Times

An "extraordinary" (Stephen King) and "mesmerizing" (LA Times) standalone novel from the master of crime and suspense and author of the forthcoming novel The Hunter.

From the writer who "inspires cultic devotion in readers" (The New Yorker) and has been called "incandescent" by Stephen King, "absolutely mesmerizing" by Gillian Flynn, and "unputdownable" (People) comes a gripping new novel that turns a crime story inside out.

Toby is a happy-go-lucky charmer who's dodged a scrape at work and is celebrating with friends when the night takes a turn that will change his life—he surprises two burglars who beat him and leave him for dead. Struggling to recover from his injuries, beginning to understand that he might never be the same man again, he takes refuge at his family's ancestral home to care for his dying uncle Hugo. Then a skull is found in the trunk of an elm tree in the garden—and as detectives close in, Toby is forced to face the possibility that his past may not be what he has always believed.

A spellbinding standalone from one of the best suspense writers working today, The Witch Elm asks what we become, and what we're capable of, when we no longer know who we are.
About the Author
---
Tana French is the author of In the Woods, The Likeness, Faithful Place, Broken Harbor and The Secret Place. Her books have won awards including the Edgar, Anthony, Macavity, and Barry awards, the Los Angeles Times Award for Best Mystery/Thriller, and the Irish Book Award for Crime Fiction. She lives in Dublin with her family.
Praise For…
---
"Extraordinary . . . Here's a things-go-bad story Thomas Hardy could have written in his prime. . . . The book is lifted by French's nervy, almost obsessive prose. . . . This is good work by a good writer. For the reader, what luck."
—Stephen King, The New York Times Book Review

"Tana French is at her suspenseful best in The Witch Elm . . . Tana French's best and most intricately nuanced novel yet . . . She is in a class by herself as a superb psychological novelist . . . French's heretofore finest novel . . . Get ready for the whiplash brought on by its final twists and turns."
—Janet Maslin, The New York Times

"Like all of her novels, it becomes an incisive psychological portrait embedded in a mesmerizing murder mystery. [French] could make a Target run feel tense and revelatory."
—Los Angeles Times

"Like all of French's novels, The Witch Elm can be swooningly evocative . . . even if Toby isn't on the Dublin Murder Squad, the events in The Witch Elm spur his great, transformative upheaval. The discovery they force on him revolves around one question: Whose story is this? By the time French is done retooling the mystery form—it seems there's nothing she can't make it do, no purpose she can't make it serve—the answer is clear: hers and hers alone."
—Laura Miller, Slate

"Ms. French's new standalone is a stunner. Unapologetically atmospheric, the book is thought-provoking and a pleasure to read at the sentence level. Her suspense and crime elements are done exceptionally well and with great originality."
—Paula McLain

"Head-spinning. . . French has spun an engrossing meditation on memory, identity, and family. A master of psychological complexity, she toys with the minds of her characters and readers both."
—Vogue

"The Witch Elm, which follows a privileged man whose life gets derailed, is a timely window into what happens when men lose their precious power . . . French's masterful character study is absolutely riveting and timely."
—Buzzfeed

"Detail-rich sequences lead to psychological insights and unexpected revelations."
—The Wall Street Journal

"The literary world's favorite mystery writer."
—The Cut

"Since bursting onto the mystery scene with her genre-bending 2007 debut In the Woods, Tana French has cemented her reputation as a literary novelist who happens to write about murder."
—Vulture

"Tana French—she of the lusciously complex sentences, she of the dense and eerie atmospheres—is one of the greatest crime novelists writing today. . . . The Witch Elm is a rich, immersive, and spine-chilling book, because Tana French is great at what she does and she knows how to tell a story. But it's also a scathing and insightful deconstruction of social privilege, coming from a master of the form at the height of her powers."
—Vox

"A crime thriller at the top of its game."
—InStyle

"Tana French's new novel is an intriguing blend of whodunit and 'who am I' . . . a high priestess of tense, twisty plots . . . the mystery's resolution is astonishing."
—O, Oprah Magazine

"Spooky. . . . one of the premier voices in contemporary crime fiction . . . The final revelations in Witch are startling . . . a whodunit far more memorable for the why than the who."
—Entertainment Weekly

"French's alluring storytelling keeps you hooked."
—Time

"French burrows deeply into her victim's psyche, plucking out his thoughts and presenting them with such elegantly worded descriptions one may think the author has nestled herself in an armchair squarely in Toby's frontal cortex . . . This one is worth two readings: the first with the constant tightening of the chest that accompanies all of French's work, the second after the reader can breathe again."
—The Associated Press

"Scratch a bit beneath the surface of The Witch Elm, then, and you'll find a book that captures the tensions of our current era, which is defined both by identity politics and the backlash against them. Through Toby, the novel offers powerful insight into how luck—which is, often enough, another way of saying privilege—can blind people to the suffering of others, with disastrous consequences."
—Quartz

"A thrilling novel about privilege, family lore, and perception."
—PopSugar

"The crime writer for people who think they don't like genre fiction. Her prose is enveloping and intricate, but casually masks its cleverness. She sucks you in with mystery, then unfurls a masterfully rendered, super specific slice of Irish society."
—Vogue.com

"Tana French is at the cutting edge of crime fiction, and The Witch Elm pushes its boundaries further."
—The New Republic

"A spellbinding stand-alone novel carefully crafted in her unique, darkly elegant prose style."
—Booklist

"Prose so smooth you forget about it and just sink right in."
—Literary Hub

"Exquisitely suspenseful."
—Bustle

"Tana French's The Witch Elm is a chilling mystery about the unreliability of memory."
—Real Simple

"You savor the details—the delicious portrayal of crisp fall weather in Ireland—as you race through the pages. . . . A tick-tocking mystery and a fascinating portrayal of memory as a cracked mirror, through which the past can't quite be seen clearly."
—Seattle Times

"French spins a compelling, twisty plot and maintains an atmosphere of foreboding and paranoia that runs throughout the book . . . games within games as each tries to deflect blame from themselves and onto someone else . . . [but] French has still created a compelling novel of suspense, in which a world that no longer makes sense is the scariest thing of all."
—Providence Journal

"An amazing read from an iconic thriller writer."
—Mystery Tribune

"Fans of [Tana French's] previous Dublin Murder Squad books will find themselves happily tangled up in her new novel, and ultimately delighted by the deep psychological dive she leads them on."
—Mystery Scene

"Tana French, having tailored psychological suspense to her own voice, demonstrates anew that the solution never fits neatly into the crime-solving order that detective novels demand."
—Bookforum

"Edgar-winner French is at her suspenseful best in this standalone, in which an Irishman, who's always considered himself a lucky person, has to reassess his past in the light of a gruesome find on the grounds of his family's ancestral home."
—Publishers Weekly

"The story is compelling, and French is deft in unraveling this book's puzzles . . . Psychologically intense."
—Kirkus Reviews

"French's slow-burning, character-driven examination of male privilege is timely, sharp, and meticulously crafted. Recommended for her legions of fans, as well as any readers of literary crime fiction."
—Library Journal