The Carrot Seed Board Book: 75th Anniversary (Board book)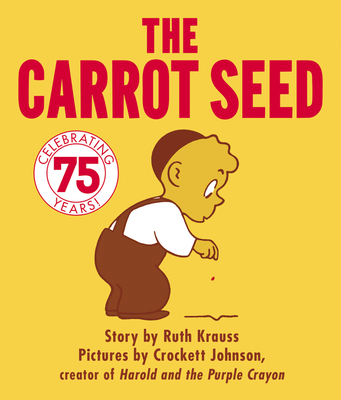 Description
---
Celebrating its 75th anniversary, the beloved classic from legendary children's book creators Ruth Krauss and Crockett Johnson, now in a board book that's perfect for little hands!
When a little boy plants a carrot seed, everyone tells him it won't grow. But when you are very young, there are some things that you just know, and the little boy knows that one day a carrot will come up. So he waters his seed, and pulls the weeds, and he waits...
This beloved classic celebrates patience, determination, and believing in yourself. First published in 1945 and never out of print, the timeless combination of Ruth Krauss's simple text and Crockett Johnson's eloquent illustrations creates a triumphant and deeply satisfying story for readers of all ages.
The sturdy board book pages make this edition of the beloved story perfect for babies and toddlers.
About the Author
---
Ruth Krauss was one of the most widely celebrated children's book authors of all time. Her long list of award-winning books includes The Carrot Seed, The Happy Day, A Hole Is to Dig, Open House for Butterflies, A Very Special House, and many others. Her books continue to be read and cherished by children throughout the world.
Crockett Johnson (1906–1975) was the writer and illustrator of over twenty books for children, including the beloved classic Harold and the Purple Crayon, six subsequent adventures starring Harold, and The Carrot Seed, written by his wife, Ruth Krauss. He was also the creator of the groundbreaking Barnaby, one of the most influential and ingenious comic strips of the twentieth century.