Lectures on Dostoevsky (Paperback)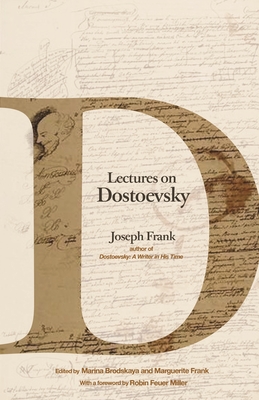 Description
---
From the author of the definitive biography of Fyodor Dostoevsky, never-before-published lectures that provide an accessible introduction to the Russian writer's major works
Joseph Frank (1918-2013) was perhaps the most important Dostoevsky biographer, scholar, and critic of his time. His never-before-published Stanford lectures on the Russian novelist's major works provide an unparalleled and accessible introduction to some of literature's greatest masterpieces. Presented here for the first time, these illuminating lectures begin with an introduction to Dostoevsky's life and literary influences and go on to explore the breadth of his career--from
Poor Folk
,
The Double
, and
The House of the Dead
to
Notes from Underground
,
Crime and Punishment
,
The Idiot
, and
The Brothers Karamazov
. Written in a conversational style that combines literary analysis and cultural history,
Lectures on Dostoevsky
places the novels and their key characters and scenes in a rich context. Bringing Joseph Frank's unmatched knowledge and understanding of Dostoevsky's life and writings to a new generation of readers, this remarkable book will appeal to anyone seeking to understand Dostoevsky and his times. The book also includes Frank's favorite review of his Dostoevsky biography, "Joseph Frank's Dostoevsky" by David Foster Wallace, originally published in the
Village Voice
.
About the Author
---
Joseph Frank was professor emeritus of Slavic and comparative literature at Stanford and Princeton. The five volumes of his Dostoevsky biography won a National Book Critics Circle Award, a Los Angeles Times Book Prize, two James Russell Lowell Prizes, and two Christian Gauss Awards, and have been translated into numerous languages. Marina Brodskaya is a translator who worked with Joseph Frank while teaching at Stanford. Her translations include Five Plays by Chekhov. Marguerite Frank, a published mathematician who holds a PhD from Harvard, was married to Joseph Frank from 1953 until his death. Robin Feuer Miller is the Edytha Macy Gross Professor of Humanities and professor of Russian and comparative literature at Brandeis University