Two Cheers for Anarchism: Six Easy Pieces on Autonomy, Dignity, and Meaningful Work and Play (Paperback)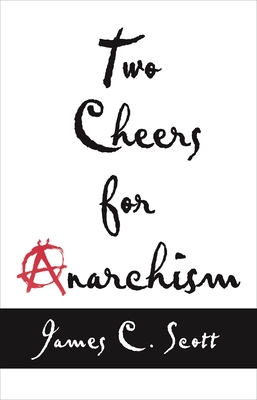 Staff Reviews
---
Anarchism may bring to mind chaos and violence, but this poorly understood philosophy has much to recommend for it. James C. Scott, author of the classic 'Seeing Like a State,' lucidly explicates a rich history of anarchist thought in this primer for mutual aid, non-hierarchical political action, and vernacular knowledge. A breath of fresh air in a world where politics seems increasingly untethered from the daily world. — From Stephen's favorites
Description
---
A spirited defense of the anarchist approach to life
James Scott taught us what's wrong with seeing like a state. Now, in his most accessible and personal book to date, the acclaimed social scientist makes the case for seeing like an anarchist. Inspired by the core anarchist faith in the possibilities of voluntary cooperation without hierarchy,
Two Cheers for Anarchism
is an engaging, high-spirited, and often very funny defense of an anarchist way of seeing--one that provides a unique and powerful perspective on everything from everyday social and political interactions to mass protests and revolutions. Through a wide-ranging series of memorable anecdotes and examples, the book describes an anarchist sensibility that celebrates the local knowledge, common sense, and creativity of ordinary people. The result is a kind of handbook on constructive anarchism that challenges us to radically reconsider the value of hierarchy in public and private life, from schools and workplaces to retirement homes and government itself. Beginning with what Scott calls "the law of anarchist calisthenics," an argument for law-breaking inspired by an East German pedestrian crossing, each chapter opens with a story that captures an essential anarchist truth. In the course of telling these stories, Scott touches on a wide variety of subjects: public disorder and riots, desertion, poaching, vernacular knowledge, assembly-line production, globalization, the petty bourgeoisie, school testing, playgrounds, and the practice of historical explanation. Far from a dogmatic manifesto,
Two Cheers for Anarchism
celebrates the anarchist confidence in the inventiveness and judgment of people who are free to exercise their creative and moral capacities.
About the Author
---
James C. Scott is the Sterling Professor of Political Science, professor of anthropology, and codirector of the Agrarian Studies Program at Yale University. His books include Seeing Like a State: How Certain Schemes to Improve the Human Condition Have Failed; Domination and the Arts of Resistance: Hidden Transcripts; and most recently, The Art of Not Being Governed: An Anarchist History of Upland Southeast Asia. He is a fellow of the American Academy of Arts and Sciences and a mediocre part-time farmer and beekeeper.