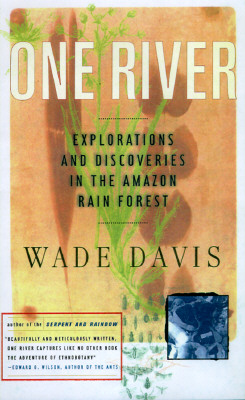 List Price: $20.99
Our Price: $19.00
(Save: $1.99 9%)
Description
---
The story of two generations of scientific explorers in South America—Richard Evans Schultes and his protégé Wade Davis—an epic tale of adventure and a compelling work of natural history.

In 1941, Professor Richard Evan Schultes took a leave from Harvard and disappeared into the Amazon, where he spent the next twelve years mapping uncharted rivers and living among dozens of Indian tribes. In the 1970s, he sent two prize students, Tim Plowman and Wade Davis, to follow in his footsteps and unveil the botanical secrets of coca, the notorious source of cocaine, a sacred plant known to the Inca as the Divine Leaf of Immortality.

A stunning account of adventure and discovery, betrayal and destruction, One River is a story of two generations of explorers drawn together by the transcendent knowledge of Indian peoples, the visionary realms of the shaman, and the extraordinary plants that sustain all life in a forest that once stood immense and inviolable.
About the Author
---
Wade Davis is a writer, photographer, filmmaker, and former Explorer-in-Residence at the National Geographic Society. He is Professor of Anthropology and the BC Leadership Chair in Cultures and Ecosystems at Risk at the University of Columbia. Davis has written 22 books and is the winner of the 2012 Samuel Johnson prize. He holds degrees in anthropology and biology and received his Ph.D. in ethnobotany, all from Harvard University.