Lenin's Tomb: The Last Days of the Soviet Empire (Pulitzer Prize Winner) (Paperback)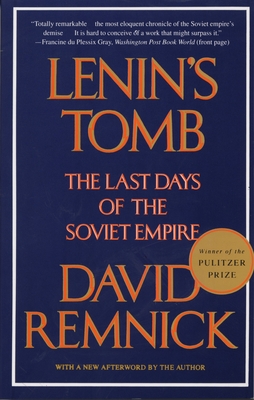 $20.00

Not On Our Shelves Now (Usually Ships in 1-5 Days)
Description
---
Winner of the Pulitzer Prize
One of the Best Books of the Year: The New York Times 

From the editor of The New Yorker: a riveting account of the collapse of the Soviet Union, which has become the standard book on the subject. Lenin's Tomb combines the global vision of the best historical scholarship with the immediacy of eyewitness journalism. Remnick takes us through the tumultuous 75-year period of Communist rule leading up to the collapse and gives us the voices of those who lived through it, from democratic activists to Party members, from anti-Semites to Holocaust survivors, from Gorbachev to Yeltsin to Sakharov. An extraordinary history of an empire undone, Lenin's Tomb stands as essential reading for our times. 
 
About the Author
---
David Remnick was a reporter for The Washington Post for ten years, including four in Moscow. He joined The New Yorker as a writer in 1992 and has been the magazine's editor since 1998. His most recent book is The Bridge, a biography of Barack Obama. His previous book, King of the World, a biography of Muhammad Ali, was selected by Time as the top nonfiction book of the year. Lenin's Tomb: The Last Days of the Soviet Empire won a Pulitzer Prize.
Praise For…
---
An engrossing and essential addition to the human and political literature of our time." —The New York Times

The most eloquent chronicle of the Soviet empire's demise published to date.... It is hard to conceive of a work that might surpass it."—Francine du Plessix Gray, Washington Post Book World

"An eloquent and riveting oral history of an epochal moment of change." —Michael Ignatieff, The Los Angeles Times

"Remnick ... has achieved a very rare feat: to make the reader feel he has been present himself at a great turning point in history. It is a stunning book, moving and vivid from the first page to last." —Robert A. Caro

"Utterly absorbing.... If you did not have the opportunity to witness the Soviet empire in its death throes, Lenin's Tomb will take you there." —Jack F. Matlock, Jr.