Checkout 19: A Novel (Hardcover)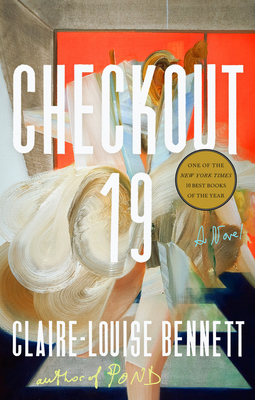 Description
---
A NEW YORK TIMES 10 BEST BOOKS OF THE YEAR AND A NEW YORKER "ESSENTIAL READ"

NAMED A BEST BOOK OF THE YEAR BY THE NEW YORKER AND VOGUE

"Bennett writes like no one else. She is a rare talent, and Checkout 19 is a masterful novel." –Karl Ove Knausgaard

From the author of the "dazzling. . . . and daring" Pond (O magazine), the adventures of a young woman discovering her own genius, through the people she meets–and dreams up–along the way.

In a working-class town in a county west of London, a schoolgirl scribbles stories in the back pages of her exercise book, intoxicated by the first sparks of her imagination.  As she grows, everything and everyone she encounters become fuel for a burning talent. The large Russian man in the ancient maroon car who careens around the grocery store where she works as a checkout clerk, and slips her a copy of Beyond Good and Evil. The growing heaps of other books in which she loses–and finds–herself. Even the derailing of a friendship, in a devastating violation. The thrill of learning to conjure characters and scenarios in her head is matched by the exhilaration of forging her own way in the world, the two kinds of ingenuity kindling to a brilliant conflagration.

Exceeding the extraordinary promise of Bennett's mold-shattering debut, Checkout 19 is a radical affirmation of the power of the imagination and the magic escape those who master it open to us all.
About the Author
---
Claire-Louise Bennett is the author of Pond, which was shortlisted for the Dylan Thomas Prize and won the inaugural White Review Short Story Prize. Her short fiction and essays have been published in The New York Times Magazine, Harper's Magazine, and other publications. She lives in Galway, Ireland.
Praise For…
---
Praise for Checkout 19:

"Singular. . . The prized darkness at the center of the human mind, the place where whatever is really real about us resides, is what Checkout 19 dedicates itself to protecting." —The New Yorker
 
"Wildly imaginative, unabashedly odd and mordantly funny . . . . This book-full-of-books is a gift and proof of a rare talent. . . . a volume to be consumed whole, on one long, strange trip. . . . [in which] the deep magic of writing is revealed." —Los Angeles Times
 
"If you've had your fill of autofiction, thanks — don't lose interest just yet. . . . The life Bennett describes is one blown open by imaginative writing … and by the transformative and transportive nature of reading."—The New York Times
 
"Rarely has a book astonished me as much as Claire-Louise Bennett's 2015 debut, Pond. . . . so unusual, and so unsettlingly pleasurable, that I thought it would be greedy to hope Bennett's new novel, Checkout 19, would be better. Lucky me: it is." —NPR.com

"The wonder of childhood reading, the undiluted absorption and imaginative engagement, the capacity to fall madly in love with fictional characters and to fantasize oneself into their worlds—these are the qualities Ms. Bennett wants to celebrate and preserve." —Wall Street Journal

"Sly and strange and deceptively casual. . . . Bennett is trying out a new method of depicting consciousness….she is inviting us to view it from a peculiar new vantage point, somehow both inside and outside at once." —Harper's Magazine

"Exhilarating. . . . Bennett has an often breathtaking knack for. . . choosing the perfectly uncanny phrase to bring a "distinct image" into being. . . . [her] brilliance is that the exchange of pickles and paperbacks between strangers can indeed be made into a story, one that is told twice: first in a sober, straightforward style, and then again in a scrambled, surrealist form." —Los Angeles Review of Books

"Bennett. . . specializes in creating character through details, whether big or small, delightful or dirt-ridden. . . . [Her] humor is often mordant but always on target. . . . Checkout 19 echoes Virginia Woolf, early Toni Morrison novels, Sheila Heti and Han Kang, and so many others in its insistence on women telling their own stories in their own ways." —Boston Globe
 
"The excitement around Bennett's books lies in their willingness to circle back on themselves, lingering in uncertainties and contradictions. . . . Throughout Checkout 19 stories function as a catalyst not just for thinking but for acting, choices, lived experiences; it feels thrilling to imagine all the books and stories, the reconsidered ways of being, that might come after this." —The New Republic
 
"A kind of tapestry. . . . Once you allow yourself to get swept along by Bennett's instinctive, synaptic abilities as a storyteller, the vivid textures of her sentences, and her subversive sense of humor, Checkout 19 is a strange and delicious treat." —Vogue
 
"I'll remember this book for its disarmingly figurative language and its subtle observational humor . . . [Bennett] traces one person's idiosyncratic, recursive artistic becoming — not just the reading, writing, and cigarette smoking but the relationships and experiences that unlock new ways of seeing." —Vulture

"[Checkout 19] seamlessly moves between literary analysis, fantastical storytelling, and life itself, eventually confronting the realities of sex, violence, and death." —Los Angeles Review of Books Radio Hour

"Claire-Louise Bennett is a woman writer living in Ireland who writes highly realistic, wildly praised literary fiction. Some of us have developed an incurable condition that dictates we must read every work by every writer who meets this description—please be mindful of this. If that's you, meet Bennett" —Glamour

"[A] masterpiece. . . .[whose] prose is often sumptuously self-aware. . . . Checkout 19 is also a startling meditation on what youth knows and doesn't know." —4 Columns

"What's amazing for the reader is to see a book so alive, so lively, so aware of what it is made of and yet so itself, so itself really that it eludes review, and ought simply to be read."—BookForum

"Bennett has the superb ability to capture the reality of a mind: it is rare to think in fully formed, conclusion-ridden ideas, after all. . . . Checkout 19 is a fresh take on the coming-of-age novel. . . .  Bennett manages to convince the reader that somewhere, her narrator continues to think and ponder and live and wrestle with being in a body, like the rest of us." —Lit Hub

"Arresting. . . . Encompassing literary criticism, suggestive fables, feminist polemic, a portrait of the artist, and a phenomenology of reading, this transfixes on both the right page and the left. Bennett marvels once again." —Publishers Weekly (starred review)

"Incandescent, surreal, mordantly funny, wrenching, and exhilarating, Bennett's enrapturing paean to literature echoes Jorge Luis Borges, Clarice Lispector, Lynne Tillman, and Lucy Ellmann, pays direct homage to myriad writers, traces the nexus of literature and life, and maps a book-besotted woman's search for meaning." —Booklist (starred review)

"What Bennett seems after in her shape-shifting novel is . . . the true power of the imagination and the lives it enables us to live when our own seem painfully circumscribed by gender, by place, by circumstance. A kaleidoscopic and ambitious blend of criticism, autofiction, fable, and memoir." —Kirkus

"Bennett writes like no one else. She is a rare talent, and Checkout 19 is a masterful novel." —Karl Ove Knausgaard

"Enigmatic and beguiling. Bennett jousts in one sentence and waltzes in the next, her singular style both earthy and soaring." —Claire Vaye Watkins, author of Battleborn and I Love You but I've Chosen Darkness

"I fell into Checkout 19 and didn't want to climb back out. It is wonderful - I'm not sure why, and that makes it all the more wonderful." —Roddy Doyle, author of Paddy Clarke Ha Ha Ha