Where I Come From: Stories from the Deep South (Hardcover)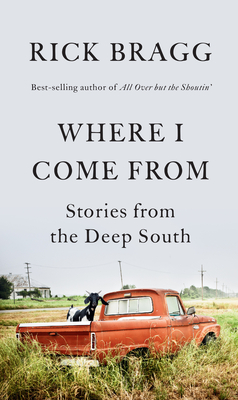 Description
---
From the best-selling, Pulitzer Prize-winning author of All Over but the Shoutin' and The Best Cook in the World, a collection of irresistible columns from Southern Living and Garden & Gun

Celebrated author and newspaper columnist Rick Bragg brings us an ode to the stories and history of the Deep South, filled with "eclectic nuggets about places and people he knows well" (USA Today) and written with honesty, wit, and deep affection.
 
A collection of wide-ranging and endearingly personal columns—from Bragg's love of Tupperware (his mother preferred margarine tubs and thought Tupperware was "just showing off") to the decline of country music, from the legacy of Harper Lee to the metamorphosis of the pickup truck to the best way to kill fire ants—Where I Come From is a book that will be treasured by fans old and new.
About the Author
---
Rick Bragg is the author of twelve books, including the best-selling Ava's Man and All Over but the Shoutin'. He writes a monthly column for Southern Living, teaches writing at the University of Alabama, and is also a regular contributor to Garden & Gun magazine. He lives in Alabama.
Praise For…
---
"Eye-popping... Eclectic... Without even trying, Bragg explains why it is humans came to believe in miracles... The larger slices of southern life are the most welcome (the reader often is still hungry when the tidbits end)"
--USA Today 3.5 out of 4 stars

"Bragg's unfeigned writing, knowing truisms and funny advice holds strong throughout this stress-allaying book."
--The Atlanta Journal-Constitution 


"Bragg's secret sauce is his combination of crisp description, never-ending humor (occasionally pathos) and insight into his brain. He takes the things we think of as common and stands them on their heads. If ever we need a little funny, it is now. And this is Bragg's present to you."
--The Florida Times-Union

"Reads as if designed for our current short-attention-span state, many of the pieces just a couple of pages long, each of them offering a dose of humor or nostalgia or adventure or, quite often, descriptions of food that make you feel you can't live another minute without a plate of fried chicken."
--Tampa Bay Times

"Where I Come From is vintage Bragg: comforting, thought-provoking and as heartfelt as it gets."
--BookPage

"A generous helping of folksy wit and charm... There are laugh-out-loud moments throughout."
--Publishers Weekly

"Poignant... The columns are clever, unassuming, and, most notably, told in a distinctive voice. They do what good columns do: sometimes tug at your heart, sometimes make you laugh to yourself, sometimes both. You read one and then go on with your day with a better sense of what it's like to be from somewhere."
--Kirkus Reviews