Italian American: Red Sauce Classics and New Essentials: A Cookbook (Hardcover)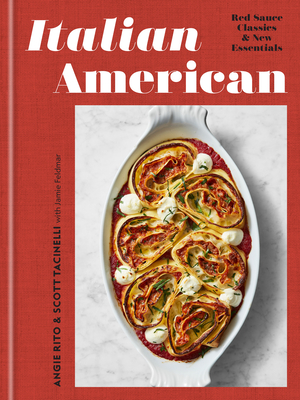 $35.00

Not On Our Shelves Now (Usually Ships in 1-5 Days)
Description
---
IACP AWARD FINALIST • Reimagine Italian-American cooking, with more than 125 recipes rich with flavor and nostalgia from the celebrated husband-and-wife chef team of Michelin-starred Don Angie in New York City.

"Every bit of warmth and hospitality that you feel when you walk into Don Angie pours out of every page of this magical book."—Michael Symon

ONE OF THE BEST COOKBOOKS OF THE YEAR: New York Post, Minneapolis Star Tribune, Food52, Epicurious, Taste of Home

The words "red sauce" alone conjure images of an Italian-American table full of antipasti, both hot and cold, whisked off to make room for decadent baked pastas topped with molten cheese, all before a procession of chicken parm or pork chops all pizzaiola—and we haven't even gotten to dessert. It's old-school cooking beloved by many and imbued with a deep sense of family.

In Italian American, Angie Rito and Scott Tacinelli, the chefs of critically acclaimed Don Angie in New York City's West Village, reinvigorate the genre with a modern point of view that proudly straddles the line between Italian and American. They present family classics passed down through generations side-by-side with creative spins and riffs inspired by influences both old and new. These comforting dishes feel familiar but are far from expected, including their signature pinwheel lasagna, ribs glazed with orange and Campari, saucy shrimp parm meatballs, and a cheesy, bubbling gratin of broccoli rabe and sharp provolone.

Full of family history and recipes that will inspire a new generation, Italian American provides an essential, spirited introduction to an unforgettable way of cooking.
About the Author
---
Angie Rito and Scott Tacinelli are a James Beard Award–nominated New York City–based husband-and-wife chef team that specializes in modern Italian-American cuisine. Scott and Angie's recipes have been featured in Saveur, Bon Appétit, Food & Wine, Vice Munchies, and the Today show.

Jamie Feldmar is a writer, editor, and author based in Los Angeles and New York. She is the co-author of the James Beard Award–winning cookbook Taste & Technique with chef Naomi Pomeroy, Butcher & Beast with chef Angie Mar, The New Orleans Kitchen with chef Justin Devillier, and Seeking the South with chef Robert Newton. Her work has appeared in The New York Times, Saveur, Food & Wine, The Wall Street Journal, and more.
Praise For…
---
"A book I have been waiting for since I tasted the best lasagna in the world! I love the West Village in New York City. It is brimming with restaurants, eateries, and cafés, but few as polished and delicious as Don Angie. That the restaurant's owners are now sharing some of their amazing recipes for all home cooks is remarkable. Thank you, Scott and Angie!"—Martha Stewart

"Scott and Angie have honored their Italian-American roots, Southern Italian flavors, family traditions, and experimented with new ingredients in such a beautiful way. Their ancestors redefined and created a new type of cuisine when they came to America, which is exactly what Scott and Angie are doing today."—Jean-Georges Vongerichten, chef and restaurateur

"Just reading Italian American made my mouth water while the story of family and honoring tradition warmed my heart. I love Angie and Scott's belief in the importance of a culinary exchange between Italy and America."—Brooke Shields, American actress and model

"Italian American is a book you must have on your shelves. It is filled with so much passion and so many stories, featuring food I not only grew up with but crave and cook daily. Angie and Scott are great chefs and fabulous people."—Michael Symon, James Beard Award–winning chef, New York Times bestselling author, and restaurateur

"The red sauce approach sets this cookbook apart and will spark the interest of home cooks ready to ditch the jar and tackle from-scratch Italian cooking."—Library Journal