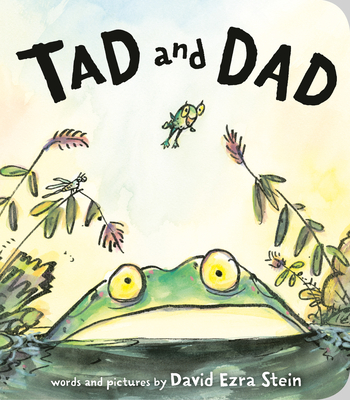 Description
---
Caldecott Honor winner David Ezra Stein's funny--and tender--tale of a growing tadpole who loves his frog dad so much he never gives him a moment's peace.

Tad the tadpole spends every day with his awesome dad, and shares a lily pad with him at night. It's always been that way . . . but little Tad is growing up, and quickly becoming as awesome--and large--as his dad. As his new parts sprout, he's learning to swim and hop and croak just like Dad. Dad is very proud, but when Tad's accomplishments carry over into nighttime--bringing lots of kicking and croaking in his sleep--the lily pad is no longer a bed for two. Even Tad finally realizes it's time for a lily pad of his own, and all is well--at least until Dad realizes how much he misses Tad.
About the Author
---
David Ezra Stein (www.davidezra.com) received a Caldecott Honor for Interrupting Chicken and the Ezra Jack Keats New Writer Award for Leaves, which was also a Publishers Weekly Best Book, a Kirkus Reviews Editor's Choice and a School Library Journal Best Book. He also wrote and illustrated Ol' Mama Squirrel; Love, Mouserella; Pouch!; and The Nice Book. He lives in New York City. Large portions of the art for this book were created with a four-and-a-half-year-old on his lap and a baby wandering the studio floor and gnawing on art supplies.
Praise For…
---
"Comically expressive, deftly conveying the energy of the wee frog and the exasperation of his dad with thick black strokes filled with swampy watercolor washes in mixed layouts ranging from spreads to cleverly focused vignettes. Children will laugh at Tad's antics while parents will sympathize with father frog's disturbed sleep. A wonderful bedtime or froggy-themed storytime read."—School Library Journal
 
"Parents everywhere, especially those with night-wandering, bed-sharing toddlers, will laugh with grim identification. . . . Little ones will chuckle at Tad's enthusiasm and Dad's growing exhaustion. . . . Stein uses color to great effect to show the lap-listener that this little gem is both a celebration of the father-child relationship and a good-night book. . . . Like every good go-to-sleep book, this one will hold up to many repeat readings."—The Horn Book

"A humorous treatment of a common bedtime problem. Brilliant watercolors accented with Crayola zing with energy in splashy two page spreads. The green amphibian's round pink mouth humorously 'BUURRPPs' with noise. Dad's comical face expresses gloom, dismay, and pride over Tad's antics. Parents will recognize the bleary-eyed adult's eyes when he says, 'Is it morning already?'"—Booklist 

"Parents faced with a child who has trouble staying in his or her own bed will relate to Dad's exasperation and chuckle at Tad's persistence. Kids will enjoy Tad's enthusiasm and obvious adoration of his father. Caldecott honoree Stein makes another splash with this charming duo."—Kirkus Reviews