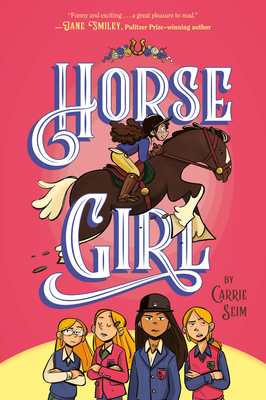 Description
---
Mean Girls meets Black Beauty in Horse Girl by celebrated author Carrie Seim--a funny and tender middle-grade novel about finding your forever herd.

"This book is funny and exciting. Beautifully portrays both the pleasures and risks of riding horses and also of being a teen. Very original, and a great pleasure to read."--Jane Smiley, Pulitzer Prize-winning author



Wills is a seventh grader who's head-over-hoof for horses, and beyond excited when she gets the chance to start training at the prestigious Oakwood Riding Academy. But Amara--the Queen of the #HorseGirls--and her posse aren't going to let the certifiably dork-tagious Wills trot her way into their club so easily. Between learning the reins of horse riding, dealing with her Air Force pilot mom being stationed thousands of miles from home, and keeping it together in front of (gasp!) Horse Boys, Wills learns that becoming a part of the #HorseGirl world isn't easy. But with her rescue horse, Clyde, at her side, it sure will be fun.

Complete with comedic, original hoof notes to acquaint the less equestrian among us, Horse Girl delivers everything a young readers wants: mean girls, boy problems, and embarrassingly goofy dad jokes. And it does so on the back of a pony.
About the Author
---
Carrie is the author of the bestselling adventure series The Flying Flamingo Sisters (hailed by The New York Times as a Best Audiobook for Road Trips with Kids) as well as Horse Girl, her new comedic middle-grade novel for Penguin Random House.

She's served as a staff writer for Nickelodeon and you can hear her voice in several audiobooks, animated series and commercials. As a journalist and essayist, she's contributed to The New York Times, The Atlantic, Cosmopolitan, The New York Post, McSweeney's, Architectural Digest and the book Mortified: Love is a Battlefield.
Praise For…
---
"A book of exceptional wit and heart, a rare and dangerous combination. Seim clears every jump with grace." — Matthew Aldrich, screenwriter of Disney/Pixar's Coco
 
"From the deliciously zippy dialogue to the hilarious misadventures of a sassy equestrian misfit (who among us didn't plot a "Grand Theft Equine" of our favorite pony?) and her equine accomplices, Carrie Seim perfectly captures what it means to be a true 'HORSE GIRL' circa-now — and always." — Sarah Maslin Nir, staff reporter, The New York Times, and author of Horse Crazy: The Story of A Woman and A World in Love with An Animal
 
"Horse Girl had my daughter enthralled. Carrie Seim's writing is both funny and poignant. She spins a heartwarming tale of 'finding your forever herd' that will connect with kids and families of all kinds. There's even an awkward dad character. (Ahem.) No comment." — Dana Gould, writer/co-executive producer of The Simpsons

"Horse Girl really captures a horse lover's imagination with its spirited story and girl talk. What a great idea and a fun read." — Soledad O'Brien, Peabody-award winning broadcast journalist, author and executive producer