Day of the Night Crawlers: A Branches Book (The Notebook of Doom #2) (Paperback)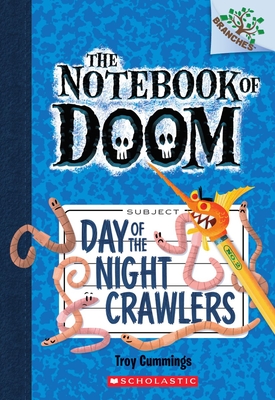 $6.99

Not On Our Shelves Now (Usually Ships in 1-5 Days)
Other Books in Series
This is book number 2 in the The Notebook of Doom series.
Description
---
Monsters have never been this much fun!This series is part of Scholastic's early chapter book line called Branches, which is aimed at newly independent readers. With easy-to-read text, high-interest content, fast-paced plots, and illustrations on every page, these books will boost reading confidence and stamina. Branches books help readers grow!In this second book in the series, Alexander and his new friend, Rip, try to learn more about the monster-filled notebook. They follow clues left by strange worms called night crawlers. It turns out new monsters are in town--giant fish monsters called tunnel fish--and even a fish-kabob monster! This humorous, action-packed book has fun black-and-white illustrations on every page.
About the Author
---
Troy Cummings has been drawing since he was a little kid. His illustrations have appeared in newspapers and magazines, on websites, on frozen-fish-stick packages, and in hospital waiting rooms. His picture books include The Eensy Weensy Spider Freaks Out!, More Bears!, and Giddy-Up, Daddy! The Notebook of Doom was his first early chapter book series. He lives in Indiana with his cat and family.
Praise For…
---
Praise for THE NOTEBOOK OF DOOM #2: DAY OF THE NIGHT CRAWLERS"Written for independent readers, the simple chapter books in this new series are part mystery, part fantasy, and part hilarious. The easy-to-read text, quick action, and exaggerated illustrations will appeal to both boys and girls." -LANGUAGE ARTSPraise for THE NOTEBOOK OF DOOM #1: RISE OF THE BALLOON GOONS"Cranking up the horrorlarity with googly eyed cartoon figures and sight gags on nearly every page, Cummings pitches his nervous but resourceful newcomer into a climactic, all-out battle with an entire army of aggressive, air-stealing bendy balloons." -KIRKUS REVIEWSPraise for THE EENSY WEENSY SPIDER FREAKS OUT!"Clever text full of witty asides." -SCHOOL LIBRARY JOURNALPraise for MORE BEARS!"[Artwork that is] infused with zaniness of fun." -SCHOOL LIBRARY JOURNAL

Praise for THE NOTEBOOK OF DOOM #2: DAY OF THE NIGHT CRAWLERS"Written for independent readers, the simple chapter books in this new series are part mystery, part fantasy, and part hilarious. The easy-to-read text, quick action, and exaggerated illustrations will appeal to both boys and girls." -LANGUAGE ARTSPraise for THE NOTEBOOK OF DOOM #1: RISE OF THE BALLOON GOONS"Cranking up the horrorlarity with googly eyed cartoon figures and sight gags on nearly every page, Cummings pitches his nervous but resourceful newcomer into a climactic, all-out battle with an entire army of aggressive, air-stealing bendy balloons." -KIRKUS REVIEWSPraise for THE EENSY WEENSY SPIDER FREAKS OUT!"Clever text full of witty asides." -SCHOOL LIBRARY JOURNALPraise for MORE BEARS!"[Artwork that is] infused with zaniness of fun." -SCHOOL LIBRARY JOURNAL

Praise for THE NOTEBOOK OF DOOM #2: DAY OF THE NIGHT CRAWLERS"Written for independent readers, the simple chapter books in this new series are part mystery, part fantasy, and part hilarious. The easy-to-read text, quick action, and exaggerated illustrations will appeal to both boys and girls." -LANGUAGE ARTSPraise for THE NOTEBOOK OF DOOM #1: RISE OF THE BALLOON GOONS"Cranking up the horrorlarity with googly eyed cartoon figures and sight gags on nearly every page, Cummings pitches his nervous but resourceful newcomer into a climactic, all-out battle with an entire army of aggressive, air-stealing bendy balloons." -KIRKUS REVIEWSPraise for THE EENSY WEENSY SPIDER FREAKS OUT!"Clever text full of witty asides." -SCHOOL LIBRARY JOURNALPraise for MORE BEARS!"[Artwork that is] infused with zaniness of fun." -SCHOOL LIBRARY JOURNAL