Rise of the Balloon Goons: A Branches Book (The Notebook of Doom #1) (Paperback)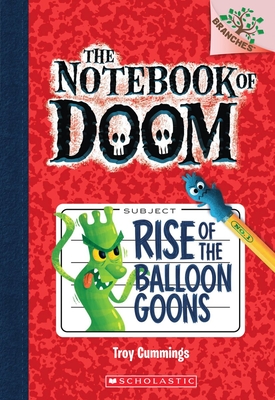 $5.99

Not On Our Shelves Now (Usually Ships in 1-5 Days)
Other Books in Series
This is book number 1 in the The Notebook of Doom series.
Description
---
Monsters + Humor + Fun = THE NOTEBOOK OF DOOM!This series is part of Scholastic's early chapter book line called Branches, which is aimed at newly independent readers. With easy-to-read text, high-interest content, fast-paced plots, and illustrations on every page, these books will boost reading confidence and stamina. Branches books help readers grow!Alexander has just moved to a new town where he is about to uncover all sorts of monsters! He finds an old notebook with the word "DOOM" inscribed on the front cover. The Notebook of Doom, which Alexander now holds, contains top secret information about monsters! In this first book, Alexander goes up against spooky balloon goons--unique and twisted arm-waving balloon guys! This book is full of humor, engaging black-and-white illlustrations, and of course . . . monsters!
About the Author
---
Troy Cummings has been drawing since he was a little kid. His illustrations have appeared in newspapers and magazines, on websites, on frozen-fish-stick packages, and in hospital waiting rooms. His picture books include The Eensy Weensy Spider Freaks Out!, More Bears!, and Giddy-Up, Daddy! The Notebook of Doom was his first early chapter book series. He lives in Indiana with his cat and family.
Praise For…
---
Praise for THE NOTEBOOK OF DOOM #1: RISE OF THE BALLOON GOONS"Cranking up the horrorlarity with googly eyed cartoon figures and sight gags on nearly every page, Cummings pitches his nervous but resourceful newcomer into a climactic, all-out battle with an entire army of aggressive, air-stealing bendy balloons." -KIRKUS REVIEWSPraise for THE EENSY WEENSY SPIDER FREAKS OUT!"Clever text full of witty asides." -SCHOOL LIBRARY JOURNALPraise for MORE BEARS!"[Artwork that is] infused with zaniness of fun." -SCHOOL LIBRARY JOURNAL

Praise for THE NOTEBOOK OF DOOM #1: RISE OF THE BALLOON GOONS"Cranking up the horrorlarity with googly eyed cartoon figures and sight gags on nearly every page, Cummings pitches his nervous but resourceful newcomer into a climactic, all-out battle with an entire army of aggressive, air-stealing bendy balloons." -KIRKUS REVIEWSPraise for THE EENSY WEENSY SPIDER FREAKS OUT!"Clever text full of witty asides." -SCHOOL LIBRARY JOURNALPraise for MORE BEARS!"[Artwork that is] infused with zaniness of fun." -SCHOOL LIBRARY JOURNAL