Stop and Smell the Cookies (Hardcover)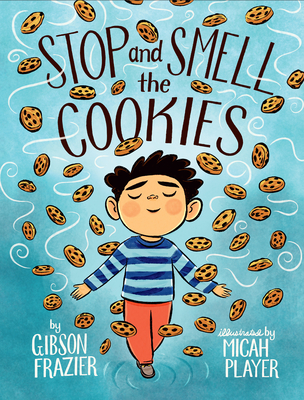 Description
---
A picture book about a rambunctious boy who learns to manage his big feelings.
 


Sometimes Dash gets so excited that his chest feels warm and fuzzy, his toes dance, and his fingertips tickle the air. When that starts, he can't seem to control what he does next, and often, trouble follows.
 
Luckily, with a little help, Dash finds a way to slow himself down when big feelings threaten to take over.
 
This joyous book introduces a clever technique to engage the imagination and relax the mind, perfect for those who are impulsive like Dash, those who hold in their feelings, and everyone in between.
About the Author
---
Gibson Frazier is an actor, writer, and filmmaker living in New York City. He has worked in numerous independent films with such luminaries as Steven Soderbergh, Noah Baumbach, Greta Gerwig, and Kirk Douglas. He also co-wrote, produced, and starred in the cult hit Man of the Century. Gibson has narrated over 60 audiobooks including the beloved Spy School and Funjungle series written by New York Times bestselling author Stuart Gibbs. A denizen of New York's downtown theatre scene, Gibson was named one of the best off-Broadway actors by both Time Out: New York and The Village Voice.

Micah Player began his career designing and illustrating for Paul Frank Industries in Southern California. He is the author of Chloe, Instead and the illustrator of several books and games for children, including Vote for Our Future! and Friday Night Wrestlefest. He lives in a little house beneath a giant tree in the Utah mountains, with a lovely schoolteacher named Stephanie. They are the parents of two rad kids, one Yorkshire terrier, and several Casio keyboards.
Praise For…
---
Praise for Stop and Smell the Cookies:

"A humorous yet compassionate portrayal of the challenges of self-regulation . . . Dash's zest for life is palpable, as are both the tension that builds as he's about to do something wrong and his contrition afterward. It's clear that Dash is a good kid whose big feelings overwhelm him." —Kirkus Reviews

"A boy's difficulty managing strong feelings repeatedly leads to trouble until he learns to "stop and smell the cookies" in this drama-filled picture book . . . Luckily, Mom comes to the rescue with a visualization exercise that Dash tries out the very next day, and models for readers who might relate to his challenges. Player's bright digital drawings depict Dash's highs and lows with a verve that elevates Frazier's well-intentioned storytelling." —Publishers Weekly

"Dash doesn't mean to mess up, but he just can't help karate-chopping his grandma's plate of cookies, blurting out the answer in class, and blowing out the candles on Cate's birthday cake . . . Frazier addresses the important and much-needed topic of self-control. The language is simple, and the story rolls out examples that kids can relate to and understand; readers will identify with Dash . . . This is an important issue, tautly articulated and addressed." —School Library Journal