Potosi: The Silver City That Changed the World (California World History Library #27) (Paperback)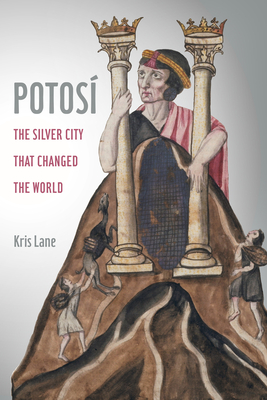 $32.34

Not On Our Shelves Now (Usually Ships in 1-5 Days)
Description
---
"For anyone who wants to learn about the rise and decline of Potosí as a city . . . Lane's book is the ideal place to begin."—The New York Review of Books

In 1545, a native Andean prospector hit pay dirt on a desolate red mountain in highland Bolivia. There followed the world's greatest silver bonanza, making the Cerro Rico or "Rich Hill" and the Imperial Villa of Potosí instant legends, famous from Istanbul to Beijing. The Cerro Rico alone provided over half of the world's silver for a century, and even in decline, it remained the single richest source on earth.
 
Potosí is the first interpretive history of the fabled mining city's rise and fall. It tells the story of global economic transformation and the environmental and social impact of rampant colonial exploitation from Potosí's startling emergence in the sixteenth century to its collapse in the nineteenth. Throughout, Kris Lane's invigorating narrative offers rare details of this thriving city and its promise of prosperity. A new world of native workers, market women, African slaves, and other ordinary residents who lived alongside the elite merchants, refinery owners, wealthy widows, and crown officials, emerge in lively, riveting stories from the original sources. An engrossing depiction of excess and devastation, Potosí reveals the relentless human tradition in boom times and bust.
About the Author
---
Kris Lane holds the France V. Scholes Chair in Colonial Latin American History at Tulane University. He is author of Colour of Paradise: The Emerald in the Age of Gunpowder Empires, Quito 1599: City and Colony in Transition, and Pillaging the Empire: Global Piracy on the High Seas, 1500–1750.
Praise For…
---
"...Lane deserves credit not only for assembling so much old and new information into a convenient form, but also for reminding us that cities have a life of their own, regardless of their national or transnational importance. . . . As he writes in his preface, the aim of his book is to 'balance the local and the global by treating Potosi—city and mountain, mines and countryside—as an example of early modern global urbanism and extraction in action.' In this he succeeds admirably."
— New York Review of Books

"Covering the period from the discovery of silver until 1825, he uses personal stories gleaned from original sources to produce a rich and lively account that shows how elite merchants, officials and mine owners rubbed shoulders with African slaves, native residents and migrants. . . . As this beautifully written book shows, the costs and benefits of globalisation are not confined to their historical moment."
— History Today

"Lane builds his analysis from fragments: notarial records and other archival documents that are both amazingly rich and rather ill-suited to crafting a narrative driven by particular individuals or families. . . . by dividing each chapter into a handful of very short sections (some no more than a page long), he gives readers a sense of how historical research feels and leaves it to us to piece a fuller story together." 
— Times Literary Supplement

"Rollicking is not a term normally applied to books from an academic press, and it is perhaps an exaggeration, but only a slight one, to use it here. Lane includes technical, mineralogical, chemical, historical and other background, but his focus is on the stories, la comédie humaine, that played out in Potosí during the two and three-quarter centuries between the discovery of silver and Simón Bolívar's declaration of independence delivered from the Cerro Rico's peak."
— Asian Review of Books

"...a valuable contribution to the study and understanding of Andean civilization and history. . . . [that] includes detailed sources and an extensive bibliography, and especially an appendix that collates the observations of selected early chroniclers of Potosí. And although Lane describes himself as a newcomer and interloper to the history of Potosí, he has delivered a marvelous work that brings together a library of writing on this fascinating topic and all under one cover."
— Estudios Interdisciplinarios de América Latina

"A skilled raconteur, Lane mines colonial chronicles written by potosinos for anecdotes to bring the city to life. . . . What makes Lane's book important is its focus on Potosi, the city, whose importance, he shows, was greater than just the mines and refining mills."
— Journal of Early Modern History