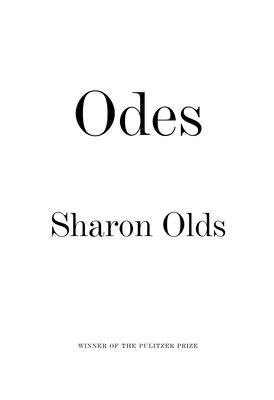 Description
---
PULITZER PRIZE WINNER • An intimate collection of poems that "picks up where Stag's Leap left off, which is to say that it contains some of the best and most ingenious poems of her career." —The New York Times

Opening with the powerful and tender "Ode to the Hymen," Sharon Olds addresses and embodies, in this age-old poetic form, many aspects of love and gender and sexual politics in a collection that is centered on the body and its structures and pleasures. The poems extend parts of her narrative as a daughter, mother, wife, lover, friend, and poet of conscience that will be familiar from earlier collections, each episode and memory burnished by the wisdom and grace and humor of looking back. In such poems as "Ode to My Sister," "Ode of Broken Loyalty," "Ode to My Whiteness," "Blow Job Ode," and "Ode to the Last Thirty-Eight Trees in New York City Visible from This Window," Olds treats us to an intimate examination that, like all her work, is universal, by turns searing and charming in its honesty. From the bodily joys and sorrows of childhood to the deaths of those dearest to us, Olds shapes the world in language that is startlingly fresh, profound in its conclusions, and life-giving for the reader.
About the Author
---
SHARON OLDS was born in San Francisco and educated at Stanford University and Columbia University. The winner of both the Pulitzer Prize and England's T. S. Eliot Prize for her 2012 collection, Stag's Leap, she is the author of ten previous books of poetry and the winner of many other awards and honors, including the Wallace Stevens Award, the inaugural San Francisco Poetry Center Award for her first book, Satan Says (1980), and the National Book Critics Circle Award for her second, The Dead and the Living, which was also the Lamont Poetry Selection for 1983. The Father was short-listed for the T. S. Eliot Prize, and The Unswept Room was a finalist for the National Book Award and the National Book Critics Circle Award. Olds teaches in the Graduate Creative Writing Program at New York University and helped to found the NYU outreach programs, among them the writing workshop for residents of Goldwater Hospital on Roosevelt Island, and for the veterans of the Iraq and Afghanistan wars. She lives in New York City.
Praise For…
---
Winner of the 2016 Wallace Stevens Award from the Academy of American Poets

"A brazenly honest, humorous meditation on the body, sex, love, and death...A bold yet charming celebration of both the poetic form and the imperfection of our humanness." —BuzzFeed
 
"Odes picks up where Stag's Leap left off, which is to say that it contains some of the best and most ingenious poems of her career." —The New York Times

"Odes sees Olds fully restored to the world, enjoying life in all its variety. It's perhaps the funniest book I've read this year, and also among the most moving and philosophical, charged with the kind of metaphysical self-interrogation that is a central, though often overlooked, aspect of her work." —The New Yorker
 
"Olds has many lurid imitators who miss her great project. Yes, her poems present matter-of-celebratory-fact aspects of the body sexual, but they never merely focus on parts as parts. Instead, they are connected to the whole of human experience, personal, historical, and even mythological." —World Literature Today

"Sharon Olds is a poet for these times, a powerful woman who won't back down." —San Francisco Chronicle