Trout Fishing In America, Pill Vs Springhill Mine Disaster, In Watermelon Sugar (Paperback)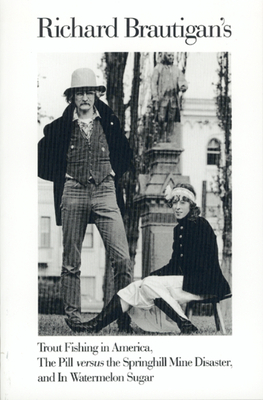 Description
---
Three counterculture classics by Richard Brautigan, literary icon of the 1960s, together in a single volume, including the unforgettable Trout Fishing in America.

Trout Fishing in America is by turns a hilarious, playful, and melancholy novel that wanders from San Francisco through America's rural waterways.

In Watermelon Sugar expresses the mood of a new generation, revealing death as a place where people travel the length of their dreams, rejecting violence and hate.

The Pill Versus the Springhill Mine Disaster is a collection of nearly one hundred poems, first published in 1968.
About the Author
---
Richard Brautigan (1935–1984) was a god of the counterculture and the author of ten novels, nine volumes of poetry, and a collection of short stories.