Himalaya: A Human History (Paperback)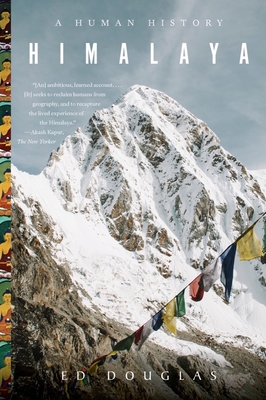 Description
---
A magisterial history of the Himalaya: an epic story of peoples, cultures, and adventures among the world's highest mountains.
For centuries, the unique and astonishing geography of the Himalaya has attracted those in search of spiritual and literal elevation: pilgrims, adventurers, and mountaineers seeking to test themselves among the world's most spectacular and challenging peaks. But far from being wild and barren, the Himalaya has been home to a diversity of indigenous and local cultures, a crucible of world religions, a crossroads for trade, and a meeting point and conflict zone for empires past and present. In this landmark work, nearly two decades in the making, Ed Douglas makes a thrilling case for the Himalaya's importance in global history and offers a soaring account of life at the "roof of the world."
Spanning millennia, from the earliest inhabitants to the present conflicts over Tibet and Everest, Himalaya explores history, culture, climate, geography, and politics. Douglas profiles the great kings of Kathmandu and Nepal; he describes the architects who built the towering white Stupas that distinguish Himalayan architecture; and he traces the flourishing evolution of Hinduism, Islam, and Buddhism that brought Himalayan spirituality to the world. He also depicts with great drama the story of how the East India Company grappled for dominance with China's emperors, how India fought Mao's Communists, and how mass tourism and ecological transformation are obscuring the bloody legacy of the Cold War.
Himalaya is history written on the grandest yet also the most human scale—encompassing geology and genetics, botany and art, and bursting with stories of courage and resourcefulness.
About the Author
---
Ed Douglas is an award-winning writer with a passion for the Himalaya. The author of a dozen books, including a biography of Tenzing Norgay, he has reported from the region for more than twenty-five years, covering the Maoist insurgency in Nepal and the Tibetan occupation. He lives in Yorkshire, England.
Praise For…
---
[Himalaya] is the fruit of an enormous amount of research…[Douglas's] observations are sharp, and in many passages, his writing glows.

— Jeffrey Gettleman - New York Times Book Review

[An] ambitious, learned account….Douglas portrays a complex, populated landscape and an intricate patchwork of cultures. …His book seeks to reclaim humans from geography, and to recapture the lived experience of the Himalaya.
— Akash Kapur - New Yorker

The candor of Douglas's telling shows us that in the Western mind Utopias were 'simply orientalist fantasies projected on Himalaya.' His gripping storytelling achieves a summit at a vista overlooking the Himalayas in words that no photo could conjure.
— Christopher King - Air Mail

Douglas has achieved something more valuable than describe current events: he has examined the ancient origins of those events with a scholarly yet entertaining synthesis of hundreds of years of history.
— Victor Mallet - Financial Times

An extraordinarily rich and wide investigation into the exhilarating story of the Himalaya. Ed Douglas knows this story in his bones, from his travels and a wonderful range of scholarship, which leaves him perfectly placed to fill a huge gap in our view of how the world fits together.
— Michael Pye, author of The Edge of the World