Floating Coast: An Environmental History of the Bering Strait (Paperback)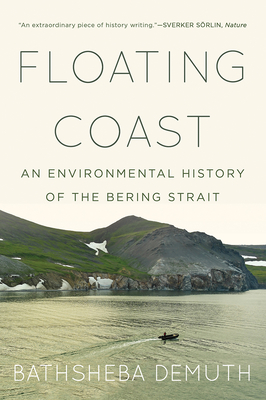 Description
---
Winner of the 2021 AHA John H. Dunning Prize

Longlisted for the 2020 Cundill History Prize

Named a Best Book of the Year by Nature, NPR, Library Journal, and Kirkus Reviews



"A monument to a people and their land… an allegory of the world we have created." —Sven Beckert, author of Pulitzer Prize finalist Empire of Cotton: A Global History
Floating Coast is the first-ever comprehensive history of Beringia, the Arctic land and waters stretching from Russia to Canada. The unforgiving territories along the Bering Strait had long been home to humans—the Inupiat and Yupik in Alaska, and the Yupik and Chukchi in Russia—before American and European colonization. Rapidly, these frigid lands and waters became the site of an ongoing experiment: How, under conditions of extreme scarcity, would modern ideologies of capitalism and communism control and manage the resources they craved?
Drawing on her own experience living with and interviewing indigenous people in the region, Bathsheba Demuth presents a profound tale of the dynamic changes and unforeseen consequences that human ambition has brought (and will continue to bring) to a finite planet.
About the Author
---
Bathsheba Demuth is an environmental historian at Brown University, specializing in the United States and Russia, and in the history of energy and past climates. She has lived in and studied Arctic communities across Eurasia and North America.
Praise For…
---
Floating Coast is an extraordinary piece of history writing.

— Sverker Sölin - Nature

[Floating Coast] is a deeply studied, deeply felt book that lays out a devastating but complex history of change, notes what faces us now, and dares us to imagine better.

— Genevieve Valentine - NPR

Floating Coast is a historian's Moby-Dick, a great white whale of a book that spans centuries and links landscapes, living beings, and the flux of time into a marvelously readable narrative.

— Amitav Ghosh, author of The Great Derangement

This book has much to offer. No matter its subject in any given paragraph… Floating Coast is rich, well researched and illuminating. It keeps under readers' feet the vastness of Demuth's expertise, as solid as a land bridge. She has made it her life's work to learn about Beringia. In relaying her knowledge, she provides a vision not only of where we on this continent came from but where we are headed. We study the Bering Strait to learn what the future holds.

— Julia Phillips - New York Times Book Review

A brilliant hybrid.… Often reminiscent to me of Barry Lopez's Arctic Dreams in its combination of rigorous research, intense looking and listening, and its clear ethical vision.

— Robert Macfarlane, author of Underland

Though Floating Coast is billed as an environmental history, it could also be described as a meditation on a biosphere. Demuth includes lavish descriptions of the landscape she has been admiring since she first visited as a teenager.… Demuth's passion for her subject shines through on every page, and her account is enriched by her extensive personal experience in Beringia. Rather than treating the Arctic as a plein-air museum, she shows how death and destruction are essential aspects of life.

— Sophie Pinkham - New York Review of Books

In a time when human desire bends so very much of what it encounters to its own image, Demuth's debut encourages us to think about the very physical limits of such a proposition. Easily one of the most innovative and poetic natural histories I have read in years.
— Elizabeth Rush, author of Rising: Dispatches from the New American Shore

Brilliant, compelling, and beautifully executed… Demuth writes with the poetry and wisdom of the land and the sea, drawing the human-wrought past of a faraway place close to the lives and future of us all.
— Jack E. Davis, Pulitzer Prize–winning author of The Gulf: The Making of an American Sea

This first-ever popular history of the Bering Strait poses questions that will only grow more important in a warming climate: it explores how animals, plants, natural landscapes, and human beings responded as capitalism and communism demanded that they serve ideas of human progress. Demuth's research in Inupiat, Yupik, and Chukchi communities shows care and rigor, but it is the poetry of her writing that tends to come up first in recommendations and reviews.
— Hilah Kohen - Meduza

Bathsheba Demuth's history flows as richly and fluidly as Arctic waters. Floating Coast narrates the transmutation of nearly every object and idea into something else. As she tracks the dynamics of the modernist, ecological makeover of the Bering Strait, Demuth is inventing a new form of historical narrative.

— Kate Brown, author of Manual for Survival