Air: The Restless Shaper of the World (Paperback)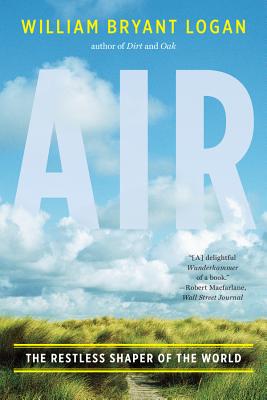 Description
---
In a sublime exploration of the most unpredictable element of the earth, William Bryant Logan opens our eyes to the astonishing physics, chemistry, biology, history, art, and even music of the air.
Air sustains the living. Every creature breathes to live, exchanging and changing the atmosphere. Water and dust spin and rise, make clouds and fall again, fertilizing the dirt. Twenty thousand fungal spores and half a million bacteria travel in a square foot of summer air. The chemical sense of aphids, the ultraviolet sight of swifts, a newborn's awareness of its mother's breast—all take place in the medium of air.
Ignorance of the air is costly. The artist Eva Hesse died of inhaling her fiberglass medium. Thousands were sickened after 9/11 by supposedly "safe" air. The African Sahel suffers drought in part because we fill the air with industrial dusts. With the passionate narrative style and wide-ranging erudition that have made William Bryant Logan's work a touchstone for nature lovers and environmentalists, Air is—like the contents of a bag of seaborne dust that Darwin collected aboard the Beagle—a treasure trove of discovery.
About the Author
---
William Bryant Logan is a practicing arborist and the author of four acclaimed books on nature: Sprout Lands, Dirt, Oak, and Air. He is on the faculty of the New York Botanical Garden and lives in Brooklyn, New York.
Praise For…
---
As with his earlier works . . . [Logan] celebrates the union of the inorganic and organic realms that nurture life. . . . Logan celebrates the atmosphere as a medium of communication—transmitting pheromones as well as sound, bird calls, music—and notes that the breath of life separates the living from the dead.
— Kirkus Reviews (starred review)
[A] delightful
Wunderkammer
of a book. . .
. Air
is... a spore-world of essays, essaylets, mini-biographies, gossip, whispers, lists, prose-poems and asides. ...Cheery, chatty and compulsively curious, Mr. Logan is able to draw the reader into pretty much any subject... In this lovely book, Mr. Logan makes the air airy again.
— Robert Macfarlane - Wall Street Journal
Logan is an enjoyable companion with which to explore his subject. He is erudite and thoughtful, with an agreeable mix of the personal and scientific
— David B. Williams - Seattle Times
Logan's meticulously researched and engagingly presented treatise is a breath of, well, fresh air.
— Carol Haggas - Booklist (starred review)
Splendid. . . . Logan delivers vast amounts of science with brevity and elegance.
— Nature