Bayou Farewell: The Rich Life and Tragic Death of Louisiana's Cajun Coast (Vintage Departures) (Paperback)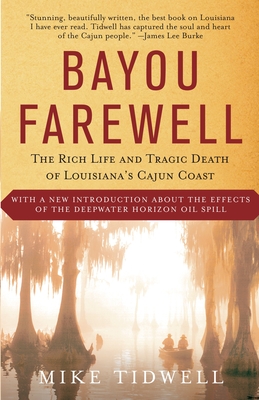 Description
---
The Cajun coast of Louisiana is home to a way of life as unique, complex, and beautiful as the terrain itself.  As award-winning travel writer Mike Tidwell journeys through the bayou, he introduces us to the food and the language, the shrimp fisherman, the Houma Indians, and the rich cultural history that makes it unlike any other place in the world. But seeing the skeletons of oak trees killed by the salinity of the groundwater, and whole cemeteries sinking into swampland and out of sight, Tidwell also explains why each introduction may be a farewell—as the storied Louisiana coast steadily erodes into the Gulf of Mexico.

Part travelogue, part environmental exposé, Bayou Farewell is the richly evocative chronicle of the author's travels through a world that is vanishing before our eyes.
About the Author
---
Mike Tidwell is the author of four previous books, including In the Mountains of Heaven, Amazon Stranger, and The Ponds of Kalambayi. A former National Endowment for the Arts fellow, Tidwell has published his work in National Geographic Traveler, Reader's Digest, Washingtonian, and many other publications. His frequent travel articles for the The Washington Post have earned him four Lowell Thomas Awards, the highest prize in American travel journalism. He lives near Washington, D.C., with his wife, Catherine, and their son, Sasha.
Praise For…
---
"The best book on Louisiana I have ever read... Stunning, beautifully written." –James Lee Burke, author of White Doves at Morning
 "A remarkable book…. Tidwell knows how to tell a good story, and he tells this one smartly."–The Times-Picayune
 "Tidwell... tells [the story] with great passion for the land and for the Cajun, Houma Indian, and Vietnamese people who live and work on these waters. [He writes] about the people with great affection."- Rocky Mountain News
"Shocking…. The calamity that lies ahead is…underscored by Tidwell's bittersweet rendering of…a way of life that is slowly dying."–San Francisco Chronicle
"A tale both enlivening and sad... What makes Bayou Farewell so appealing is that Tidwell allows us to experience life on the bayou—and thus better appreciate what is being lost—through the lives of its chief residents, the Cajuns."- The News & Observer