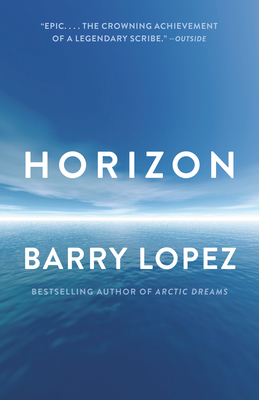 Staff Reviews
---
The horizon, in Barry Lopez's view, marks a perptually approachable--and never reachable--edge. It's not a boundary or a limit to knowledge, but an elusive and intangible line that urges humility, a characteristic that modern, Western humans seem to have in short supply. 
A deeply considered and magisterial examination of landscape, ecology, and our place within the natural world as it (and, of course, we) teeters on the brink of catastrophe, Horizon is the culmination of the career of one of our great moral visionaries. This is a book to contend with and to linger with, an undeniable masterpiece.
— Stephen
Description
---
ONE OF THE BEST BOOKS OF THE YEAR:
THE NEW YORK TIMES • NPR • THE GUARDIAN

From pole to pole and across decades of lived experience, National Book Award-winning author Barry Lopez delivers his most far-ranging, yet personal, work to date. Horizon moves indelibly, immersively, through the author's travels to six regions of the world: from Western Oregon to the High Arctic; from the Galápagos to the Kenyan desert; from Botany Bay in Australia to finally, unforgettably, the ice shelves of Antarctica.
 
Along the way, Lopez probes the long history of humanity's thirst for exploration, including the prehistoric peoples who trekked across Skraeling Island in northern Canada, the colonialists who plundered Central Africa, an enlightenment-era Englishman who sailed the Pacific, a Native American emissary who found his way into isolationist Japan, and today's ecotourists in the tropics. And always, throughout his journeys to some of the hottest, coldest, and most desolate places on the globe, Lopez searches for meaning and purpose in a broken world.


About the Author
---
Barry Lopez is the author of three collections of essays, including Horizon; several story collections; Arctic Dreams, for which he received the National Book Award; Of Wolves and Men, a National Book Award finalist; and Crow and Weasel, a novella-length fable. He contributed regularly to both American and foreign journals and traveled to more than seventy countries to conduct research. He was the recipient of fellowships from the Guggenheim, Lannan, and National Science Foundations and was honored by a number of institutions for his literary, humanitarian, and environmental work. He died in 2020. 

www.barrylopez.com
Praise For…
---
"At once reverie and urgent appeal, Horizon is beautiful and brutal—a story of the universal human condition, set in some of the most distinctive places on earth."
—The New York Times Book Review

"Epic. . . . The crowning achievement of a legendary scribe."
—Outside Magazine

"Sublime, dreamlike. . . . Lopez is a welcoming host as he brings you across the world."
—NPR
 
"Literary journalism, memoir and travelogue: so compelling it deserves its own genre."
—The Washington Post

 "Extraordinary. . . . A capacious blend of popular science, travel writing and autobiography."
—The Wall Street Journal

"A contemporary epic. . . . Superb . . . challenging and symphonic; a beautiful book, 35 years in the writing, but still speaking to the present moment."
—The Guardian

"An interrogative autobiography. . . . In Horizon, Lopez is remapping the world, revisiting places of surprising starkness and beauty, bring[ing] enormous questions down to earth by rooting them in a series of landscapes."
—Verlyn Klinkenborg, The New York Review of Books

 "Part autobiography, part cri de coeur . . . Lopez writes with fervid wonder and fascination about all he's seen and experienced."
—The Atlantic

 "A touchstone author whose nonfiction and fiction alike have inspired artists in multiple disciplines. . . . Lopez's visionary descriptions of landscapes are startling in their immediacy."
—The Seattle Times

 "Subtle, monumental, rich, spare: this opus by acclaimed writer Lopez contains and transcends contradictions."
—Nature

 "Lopez is a master of the big question. . . . He writes with transporting precision."
—Christian Science Monitor

 "Epic. . . . Lopez is a thoughtful and careful curator, sweeping the planet to understand not only its topography but also the cultural geography of humans and the relationship between the two.
—Minneapolis Star Tribune

 "An essential voice in American writing. Barry Lopez's stories of inquiry and discovery are gloriously riveting, bringing the reader into a research boat, an archaeological site, a night-tent conversation, water forty feet under the edge of an ice shelf. At each place where he turns his eye and mind, something is learned of existence's richness and meaning. A master work. This book is a map to treasures everywhere buried."
—Jane Hirshfield 

"I am astonished by this book, and delighted by its deep musicality. The scope and depth of Horizon are staggering—it is symphonic in scale and tone, and as contrapuntal as a Bach fugue.
—John Luther Adams, Pulitzer-Prize winning composer