Draw Me After: Poems (Hardcover)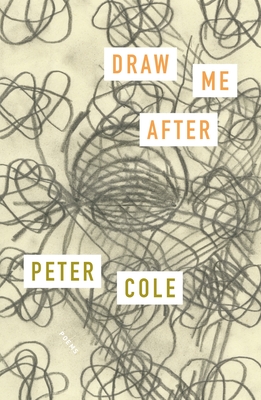 Description
---
"Cole's splendid ear orchestrates awakenings." —Forrest Gander, author of Twice Alive

Peter Cole's luminous new book is in many ways his freest and most moving to date. In Draw Me After, Cole evolves a supple, singular music that charts regions of wonder and danger, from Eden as a place of first response and responsibility to modern sites of natural and political catastrophe.

At the heart of the volume lie two remarkable series: one translates drawings by Terry Winters into a textured language spun from the material abstractions of Winters's art; the other winds through the book in dreamlike fashion, offering prismatic and often haunting meditations on the letters of the Hebrew alphabet—in kabbalistic tradition, the building blocks of existence. Inventive and receptive, physical, metaphysical, and playful, Cole's poetry disturbs and enchants with "a quiet, streaming power . . . that leads the reader back to it over and over again" (Ray González, The Bloomsbury Review).
About the Author
---
Peter Cole was born in Paterson, New Jersey, in 1957. He has written several previous books of poems, including Hymns & Qualms and Rift, and he has also translated widely from Hebrew and Arabic works—both medieval and modern. He is the recipient of many honors, including a Guggenheim Fellowship, an American Academy of Arts and Letters Award in Literature, the PEN Award for Poetry in Translation, a National Jewish Book Award, and a MacArthur Fellowship. He divides his time between Jerusalem and New Haven.
Praise For…
---
Praise for Draw Me After

"Peter Cole has been merging the work of poet and translator for nearly half a century, reminding us that writing is always a translation—of thought, impulse, feeling, memory, image, time . . . Cole's voice is incomparable." —Jesse Nathan, McSweeney's
"It is rare for a poet to produce a book as memorable as The Invention of Influence (2014) and then bring forth another title that is just as distinct and remarkable . . . An outstanding collection." —Michael Autrey, Booklist (Starred Review)

"A stunning book. Beautiful, delicate, tough, intricate, clear—often in the same poem. This really is 'equipment for living.'" —Christian Wiman, author of Survival Is a Style

"'Waking the letters from their slumber': that's Peter Cole's mad, sublime task in these phantasmagoric poems. Every line of this book breaks the literal—the letters—into visionary scenes where sorrow marries joy and blessings almost rhyme with curse. A revelation." —Rosanna Warren, author of So Forth

"Peter Cole shows himself in Draw Me After to be our great master of ekphrasis. Visually, sonically, rhythmically, semantically, his are some of the most inventive, witty, profound, and genuinely beautiful lyric poems of our moment." —Marjorie Perloff, author of Infrathin: An Experiment in Micropoetics

Praise for Peter Cole

"One of the best religious poets writing in English." —Anthony Domestico, Commonweal

"Peter Cole's work defies traditional distinctions—between old and new, foreign and familiar, translation and original… [The] rigor, vigor, joy, and wit of his [poems] have expanded the imaginative capacities of what the unimaginative might call his 'target language'." —Joshua Cohen, Paris Review

"[Peter Cole's] poetry is remarkable for its combination of intellectual rigor with delight in surface, for how its prosody returns each abstraction to the body, linking thought and breath, metaphysics and musicality. Religious, erotic, elegiac, pissed off—the affective range is wide and the forms restless." —Ben Lerner, Bomb Magazine