The Farmer's Son: Calving Season on a Family Farm (Paperback)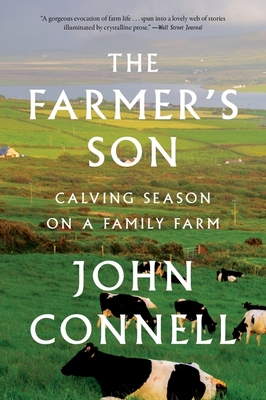 Description
---
For fans of The Shepherd's Life, a poignant memoir—and #1 Irish bestseller—about a wayward son's return home to his family's farm, and how he found a new beginning in an age-old world

Farming has been in John Connell's family for generations, but he never intended to follow in his father's footsteps. Until, one winter, after more than a decade away, he finds himself back on the farm.

Connell records the hypnotic rhythm of the farming day—cleaning the barns, caring for the herd, tending to sickly lambs, helping the cows give birth. Alongside the routine events, there are the unforeseen moments when things go wrong: when a calf fails to thrive, when a sheep goes missing, when illness breaks out, when an argument between father and son erupts and things are said that cannot be unsaid.

The Farmer's Son is the story of a calving season, and the story of a man who emerges from depression to find hope in the place he least expected to find it. It is the story of Connell's life as a farmer, and of his relationship with the community of County Longford, with his faith, with the animals he tends, and, above all, with his father.
About the Author
---
JOHN CONNELL's work has been published in Granta's New Irish Writing issue. His memoir, The Farmer's Son, was a #1 bestseller in Ireland. He lives on his family farm, Birchview, in County Longford, Ireland.
Praise For…
---
Winner of the 2018 An Post Irish Book Award/Ireland AM Popular Non-Fiction Book of the Year An iBooks Most Anticipated Titles of 2019 "This book is a vivid and sharply observed account of a way of life which is almost invisible, a new hidden Ireland. It is also a fascinating portrait of a single sensibility, a born noticer, someone on whom nothing is lost, observing birth and death, the landscape, and his own heritage." —Colm Tóibín, author of Brooklyn and Nora Webster   "A gorgeous evocation of farm life's recurring cycle of births, deaths, seasons, weather, chores and life lessons, all spun into a lovely web of stories illuminated by crystalline prose. What comes through on every page is Mr. Connell's heart and humility—and his profound appreciation for the animals who depend on him for their well-being, and vice versa." –The Wall Street Journal "I usually view rural Ireland from a train or car window, but reading this gripping, fascinating book I felt I was becoming a cattle farmer." —Roddy Doyle   "One of the most striking features of [The Farmer's Son] is that, although John Connell is describing years-old farming practices, it feels as though you are reading about them for the first time. Connell's vivid writing brings his subject matter to life and makes the reader feel connected to the birth and death cycles on a typical farm . . . There is much to praise here, from the way the author writes about the animals in his care, to his openness about depression and intelligent reflections on the state of modern farming. A natural writer, Connell is also a sympathetic and wise observer of the eternal struggle involving humans and animals." —Sunday Times (UK) "Connell's moving memoir tracks his life on the family farm, his fights with his father, and charts humanity's long relationship with cattle . . . This is a brooding, powerful memoir about a twenty-nine-year-old man's return to the family farm in Ireland and his difficult relationship with his taciturn and short-tempered father." —Guardian "Old ways meet new and the generations work out their tensions all over again in this evocative memoir…In John Connell, Ireland might find its Wendell Berry." —Plough  "The Farmer's Son is a powerful, beautiful story about the tug of land, the meaning of home and one man's place in the world."—Minneapolis Star-Tribune "An honest, vivid reckoning of what it's like to simultaneously belong and not belong, [The Farmer's Son] becomes John Connell's meditation on the real meaning of home and place." —Irish Times   "One of the joys of this book is the prose, its clean plainness offset by the glorious cadences of Irish speech . . . Surely a prize winner." —Daily Mail   "In the spaces between its passages of intimate pastoral meditation, [The Farmer's Son]'s historical examination of our deep relationship with our bovine friends reads like a history of conflict, both with and over these important creatures." —Independent (Ireland)   "Admirably raw and unsentimental . . . An original and thought-provoking book." —Mail on Sunday   "A compelling portrait of lif —