Healthy Heart, Healthy Brain: The Personalized Path to Protect Your Memory, Prevent Heart Attacks and Strokes, and Avoid Chronic Illness (Hardcover)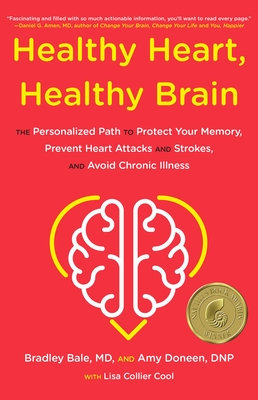 $30.00

Not On Our Shelves Now (Usually Ships in 1-5 Days)
Description
---
Boost your cardiovascular health, optimize your mental strength, and prevent and reverse arterial disease with this personalized plan from the founders of the renowned Heart Attack & Stroke Prevention Center –– "you'll want to read every page" (Amen).
Did you know that every forty seconds, someone in the US suffers a heart attack or stroke, and every sixty-five seconds someone develops dementia? The culprit is cardiovascular disease—and rates are soaring in younger, seemingly healthy people. Busting every myth we have about cardiovascular health, including that women are less likely to suffer from heart attacks and strokes, world-renowned cardiovascular specialists Bradley Bale, MD, and Amy Doneen, DNP, have pioneered a lifesaving method to prevent these devastating events—and reverse the disease that causes them. 
The BaleDoneen Method transcends the medical silos of cardiology, neurology, endocrinology, and others with a holistic approach designed to protect and optimize the health of the heart, brain, and other vital organs, as well as the blood vessels that supply them. With laser-sharp focus, Bale and Doneen provide the latest research on how your oral health is contributing to the decline of your heart. Captivating and revolutionary, 
Healthy Heart, Healthy Brain 
is a unique and comprehensive program to prevent chronic diseases and memory loss in people of all ages regardless of their body type, medical history, or genes. Offering a roadmap to lifelong arterial wellness, it includes:
Precision medical methods to prevent diseases of aging
The best and worst supplements and foods for your heart
Ten lifestyle moves that lower dementia risk by 35 percent
Information about genes that raise cardiovascular risk as much as smoking
The top ten heart attack prevention tips for women
Healthy Heart, Healthy Brain 
will equip you with the knowledge you need to approach your healthcare as an empowered and informed patient.
About the Author
---
Dr. Bradley Bale and Dr. Amy Doneen are international leaders in the prevention of heart attacks, strokes, type 2 diabetes, and chronic disease such as dementia and heart failure. They Co-founded the BaleDoneen Method in 1999, which has shown in peer-reviewed studies to effectively identify, stabilize and reverse arterial disease.
Drs. Bale and Doneen have been called "disease detectives" because their method uses leading-edge laboratory and imaging tests to check for hidden signs of arterial disease and inflammation. Using a genetic, precision-based approach, the BaleDoneen Method treats each patient as a unique and special individual.
Both share academic appointments at Texas Tech Health Sciences, University of Kentucky of College of Dentistry and Washington State University College of Medicine. Dr. Doneen owns The Heart Attack & Stroke Prevention Center in Spokane Washington: an international center for patient treatment and provider training through the BaleDoneen Academy.

Lisa Collier Cool is a bestselling author, blogger and winner of twenty journalism awards. Her books include Beat the Heart Attack Gene, which she coauthored with Drs. Bale and Doneen. 
Praise For…
---
"Healthy Heart, Healthy Brain will help you change your body, heart and mind. I can't recommend this groundbreaking book from Bale and Doneen enough. Fascinating and filled with so much actionable information, you'll want to read every page." —Daniel G. Amen, MD, author of Change Your Brain, Change Your Life and You, Happier

"Healthy Heart, Healthy Brain summons us to reclaim our health. With simple screening tests and diagnostics, it revolutionizes our idea of preventative medicine as well our concepts about holistic health. No longer do you need to go to a different specialist for every body part when you take Drs. Bale and Doneen's approach. If you care about your health and longevity, you're going to want to read this book."—Edward Mylett, author of #MaxOut Your Life

"Based in the most cutting-edge and formative science, Healthy Heart, Healthy Brain unravels cardiovascular disease in a holistic and personalized manner. [It has] practical advice and simple tricks based upon their revolutionary BaleDoneen Method, which has been meticulously developed over the past two decades–– you won't regret getting your hands on this book!" —Robert G. Darling, MD, FACEP, FFSEM, White House Physician, '96-'99, Founder & Chief Medical Officer of Patronus Medical

"Healthy Heart, Healthy Brain is a life-saving book! I would know –– I am alive today because of Bale and Doneen's extraordinary work. Providing me with top-notch medical advice and treatments for over a decade, they continue to open our eyes to the insidious ways cardiovascular disease can creep into our lives by examining everything from oral health, diets, and sleep patterns to provide precise, extensive, and approachable advice for anyone who picks this book up."—Dr. Jeff Life, author of The Life Plan Diet

"I've not only used the BaleDoneen method, but I've seen it work with my former patients. A comprehensive yet personalized approach to identifying and eliminating inflammation, Healthy Heart, Healthy Brain is a roadmap to the future of cardiovascular disease management. A true practice changer, this is sure to be one of the most compelling books you've read in years!" —Sean Conley, DO, FACEP, White House Physician, '2016-21',

"Dentists have a significant role in managing oral infections and the airway.  The principles outlined in Healthy Heart, Healthy Brain recognize the critical role of oral healthcare providers in cardiovascular wellness. Everyone who wants to be as healthy as they can be should read this book."—John C. Kois, D.M.D, M.S.D, Founder and Director of Kois Center, LLC