Selected Poems of W. H. Auden (Vintage International) (Paperback)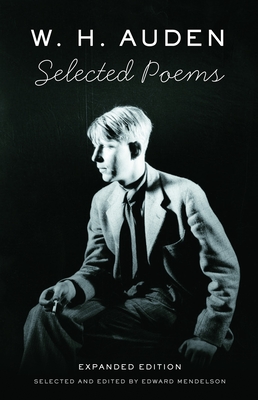 Description
---
This significantly expanded edition of W. H. Auden's Selected Poems adds twenty poems to the hundred in the original edition, broadening its focus to better reflect the enormous wealth of form, rhetoric, tone, and content in Auden's work. Newly included are such favorites as "Funeral Blues" and other works that represent Auden's lighter, comic side, giving a fuller picture of the range of his genius. Also new are brief notes explaining references that may have become obscure to younger generations of readers and a revised introduction that draws on recent additions to knowledge about Auden.

As in the original edition, the new Selected Poems makes available the preferred original versions of some thirty poems that Auden revised later in life, making it the best source for enjoying the many facets of Auden's art in one volume.
About the Author
---
W. H. Auden (1907-73) was born in York, England, and educated at Oxford. During the 1930s he was the leader of a left-wing literary group that included Christopher Isherwood and Stephen Spender. With Isherwood he wrote three verse plays. He lived in Germany during the early days of Nazism, and was a stretcher-bearer for the Republicans during the Spanish Civil War. Auden's first volume of poetry appeared in 1930. Later volumes include Spain (1937), New Year Letter (1941), For the Time Being, a Christmas Oratorio (1945), The Age of Anxiety (1947; Pulitzer Prize), Nones (1951), The Shield of Achilles (1955), Homage to Clio (1960), About the House (1965), Epistle of a Godson (1972), and Thank You, Fog (1974). His other works include the libretto, with his companion Chester Kallman, for Stravinsky's opera The Rake's Progress (1953); A Certain World: A Commonplace Book (1970); and The Dyer's Hand and Other Essays (1968). In 1939 Auden moved to the United States and became a citizen in 1946, and beginning that year taught at a number of American colleges and universities. From 1956 to 1961 he was professor of poetry at Oxford. Subsequently he lived in a number of countries, including Italy and Austria, and in 1971 he returned to England. He was awarded the National Medal for Literature in 1967.