Day out of Days: Stories (Paperback)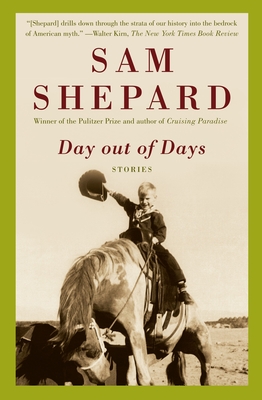 Description
---
From one of our most admired writers: a collection of stories set mainly in the fertile imaginative landscape of the American West, written with the terse lyricism, cinematic detail, and wry humor that have become Sam Shepard's trademarks.

A man traveling down Highway 90 West gets trapped alone overnight inside a Cracker Barrel restaurant, where he is tormented by an endless loop of Shania Twain songs on the overhead sound system. A wandering actor returns to his hometown against his better instincts and runs into an old friend, who recounts their teenage days of stealing cars, scoring Benzedrine, and sleeping with whores in Tijuana. A Minnesota family travels south for a winter vacation but, caught up in the ordinary tyrannies of family life, remains oblivious to the beauty of the Yucatán Peninsula. A solitary horse rancher muses on Sitting Bull and Beckett amid the jumble of stuff in his big country kitchen—from rusted spurs and Lakota dream-catchers to yellowing pictures of hawks and galloping horses to "snapshots of different sons in different shirts doing different things like fishing, riding mules and tractors; leaning up against their different mothers at radical angles."

Made up of short narratives, lyrics, and dialogues, Day out of Days sets conversation against tale, song against memory, in a cubistic counterpoint that finally links each piece together. The result is a stunning work of vision and clarity imbued with the vivid reverberations of myth—Shepard at his flinty-eyed, unwavering best.
About the Author
---
SAM SHEPARD was the Pulitzer Prize–winning author of more than fifty-five plays, three story collections, and two works of prose fiction. As an actor, he appeared in more than sixty films, and received an Oscar nomination in 1984 for The Right Stuff. He was a finalist for the W. H. Smith Literary Award for his story collection Great Dream of Heaven. In 2012 he was awarded an honorary doctorate from Trinity College, Dublin. He was a member of the American Academy of Arts and Letters, received the Gold Medal for Drama from the Academy, and was inducted into the Theater Hall of Fame. He died in 2017.
Praise For…
---
"[Shepard] drills down through the strata of our history into the bedrock of American myth."—Walter Kirn, The New York Times Book Review

"Expansive and rich. . . . With scenarios that are at once unbearable and irresistible, Shepard casts a predictably haunting spell." —USA Today
 
"Gorgeous. . . . Searing. . . . Shepard beautifully records the overlooked, strange places men find themselves, both physically and emotionally." —San Francisco Chronicle
 
"Sharp enough to move a reader to tears. . . . Funny and smart. . . . Profoundly satisfying. . . . The narrator talks out his conflicts . . . with great precision and beauty." —The Boston Globe

"Expansive, panoramic. Like Bob Dylan, Shepard is a geographer of the rawboned surrealism of America's shadow interior, story after story bearing the name of a town or highway, our national portrait dabbed with a thousand points of darkness." –James Wolcott, Vanity Fair
 
"These stories [have a] deep, abiding appeal." –The Los Angeles Times
 
"This is Shepard's brilliance—the ability to continually surprise us. He plays with our heads, pushes boundaries, and in the end makes the journey worthwhile." –The Denver Post
 
"Shepard [is] one of the most lavishly gifted, prolific artists of his generation." –The Plain Dealer
 
"These deceptively modest works, reflective and witty, explode with fresh energy. Their touches of absurdity give way to a depth of emotional loss that will sneak up and wring your heart dry. [Sam Shepard] is still a star, still a treasure….It takes an eternally young genius like Shepard to make us laugh and wonder." –The Daily Beast
 
"Shepard's talent and bent for language is what drives the book. The rhythms. The precision of the words. His instincts on when to give and when to hold back. All together, these pieces take us on a road trip of America, before dropping us off inside ourselves." –The Providence Journal
 
"His literary voice….[is] strong, unpretentious, and singular….He writes with the kind of authority that makes you believe—and with the kind of depth that makes you think." –Elle.com
 
"Mournfully funny….Well-observed….As a collection of tiny jewels of language unearthed with great care by a man with a uniquely American voice, it's unlike anything else." –The A.V. Club
 
"Read [it] the way the faithful may read their Bibles: a few verses nightly to serve as inspiration, and a shield from despair." –The L Magazine
 
"No one writes like Shepard or better captures the fallout from American myths: of freedom, entitlement and masculinity." –The Post and Courier
 
"Powerfully entertaining." –Richmond Times-Dispatch
 
"Gripping and elusive at the same time….Dark and weirdly funny….There's something about Shepard that invites awe. Sam Shepard is Samuel Beckett as Marlboro Man….Readers of Hemingway, Cormac McCarthy, Jim Harrison and Thomas McGuane will recognize the type." –The Hartford Advocate
 
"Always there's the tremendous poetry of Shepard's language." –The Oregonian
 
"Moving….Again and again, we find in Day out of Days, everything in life is a mystery; the road to answers, or even a satisfying sense of place, never ends." –Chicago Sun Times