Super Gut: A Four-Week Plan to Reprogram Your Microbiome, Restore Health, and Lose Weight (Hardcover)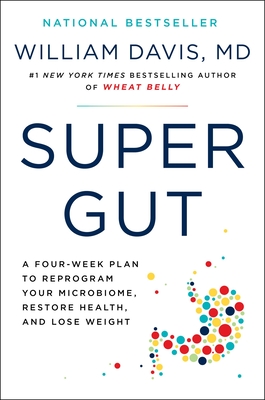 $30.00

Not On Our Shelves Now (Usually Ships in 1-5 Days)
Description
---
The bestselling author of the Wheat Belly books brings his next big, game-changing idea—how the human microbiome is evolving, and potentially wrecking, our health, and how we can fix it.

Because of our highly processed diet, pesticides, and overuse of antibiotics, our guts are now missing so many of the good bacteria that we require to be healthy. As a result, many of us have lost control over our health, weight, mood, and even behavior.

The ancient bacteria that keep our digestion moving have been dying, replaced by harmful microbes that don't keep us physically and mentally fit. With cutting-edge research, Dr. Davis connects the dots between gut health and modern ailments. There are entire species of microbes that have disappeared, which creates health issues that were uncommon one hundred, or even fifty, years ago. The result is SIBO (small intestinal bacterial overgrowth), a silent and profound epidemic, which affects one out of three people and is responsible for an astounding range of human health conditions.

Super Gut shows us how to eliminate bad bacteria and bring back the "good" bacteria with a four-week plan to reprogram your microbiome. This not only gets to the root of many diseases, but also improves levels of oxytocin (the bonding/happy hormone), brain health, anti-aging, weight loss, mental clarity, and restful sleep. Also included are more than forty recipes, a diet plan, and resources so you can pinpoint your gut issues, correct them, and maintain your long-term health and well-being.
About the Author
---
William Davis, M.D. is a renowned preventive cardiologist and author of the groundbreaking #1 New York Times bestseller Wheat Belly, three other New York Times bestsellers: Wheat Belly Cookbook, Wheat Belly 30-Minutes (or Less!) Cookbook, and Wheat Belly Total Health, and several other books including Wheat Belly 10-Day Grain Detox and Undoctored.

​He is a graduate of the St. Louis University School of Medicine, with training in internal medicine and cardiovascular disease, and advanced training in angioplasty at the Case Western Reserve University Hospitals where he also served as Director of the Cardiovascular Fellowship and Assistant Professor of Medicine. He lives in Milwaukee, Wisconsin.
Praise For…
---
USA Today Bestseller
"
Super Gut
reveals how virtually every aspect of our health is fundamentally influenced by the vast array of microscopic organisms living upon and within us. Dr. Davis makes it clear that so many issues related to living in our modern world challenge this relationship and set the stage for illness. But the good news, as
Super Gut
so eloquently portrays, centers on our new-found ability to improve the health and functionality of the vast array of microbes upon which we depend. It's clear that we can manipulate this relationship to our advantage. And Dr. Davis shows us how."—
David Perlmutter, MD, author, #1 New York Times bestseller, Grain Brain, and Drop Acid
 "Reading
Super Gut
is reading an incredibly important manual on building the super 'hard drive' for a long, healthy, and productive life…. With easy-to-implement, inexpensive recommendations, it won't be long before you're forever grateful you took the time to read and implement.... All disease begins in the gut. So build a Super Gut!"—
Dr. Tom O'Bryan, author of The Autoimmune Fix and You Can Fix Your Brain
"
Super Gut 
brings the conversation into new territory. Bacteria are not the bad guys! Dr. Davis' plan helps you replenish the microbiome and eliminate those culprits that are depleting us of essential natural probiotics that maintain a healthy gut. Microbiome medicine is an essential part of good health, disease prevention, vitality, and longevity. Bravo to Dr. Davis on this newest addition to the literature."—
Dr. Raphael Kellman, founder of Microbiome Medicine, author of The Microbiome Diet, The Microbiome Breakthrough, Microbiome Thyroid
"An intriguing look into the science of the gut microbiome, and its implications for human health. Dr. Davis brings his usual light to this area of science and follows that up with some practical advice."
—
Dr. Jason Fung, New York Times bestselling author of The Obesity Code
"Unlike other books on the microbiome, Dr. Davis has taken the conversation several steps further by showing how lost microbes can be restored and how an epidemic of overgrowth of undesirable species can be pushed back with often spectacular results. He packs the book with specific strategies and recipes so that the reader is well-equipped to regain health, vigor, even youthfulness."
—
Mark Hyman, MD, New York Times bestselling author of The Pegan Diet
"A great guidebook about taking control of your own body and your own health."—
"Downtown with Rich Kimball" podcast
"A fascinating book."—
Groks Science Show
"[An] amazing book."—
"Keto Kamp" podcast