The Human Planet: How We Created the Anthropocene (Hardcover)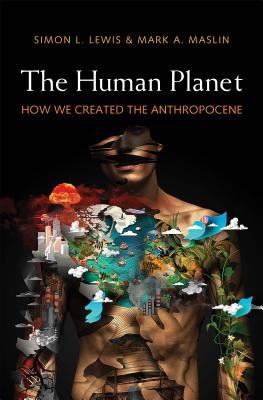 Description
---
A remarkable exploration of the science, history, and politics of the Anthropocene, one of the most important scientific ideas of our time, from two world-renowned experts
Meteorites, mega-volcanoes, and plate tectonics—the old forces of nature—have transformed Earth for millions of years. They are now joined by a new geological force—humans. Our actions have driven Earth into a new geological epoch, the Anthropocene. For the first time in our home planet's 4.5-billion-year history a single species is increasingly dictating Earth's future.
To some the Anthropocene symbolizes a future of superlative control of our environment. To others it is the height of hubris, the illusion of our mastery over nature. Whatever your view, just below the surface of this odd-sounding scientific word, the Anthropocene, is a heady mix of science, philosophy, and politics linked to our deepest fears and utopian visions. 
Tracing our environmental impacts through time, scientists Simon Lewis and Mark Maslin reveal a new view of human history and a new outlook for the future of humanity in the unstable world we have created.  
About the Author
---
Simon L. Lewis is Professor of Global Change Science at University College London and University of Leeds. An award-winning scientist, he has been described as having "one of the world's most influential scientific minds". He has written for the Guardian and Foreign Policy magazine.
Mark A. Maslin is Professor of Earth System Science at University College London and a Royal Society Wolfson Research Merit Scholar. He is the author of eight books and has written for The Times and New Scientist.
Praise For…
---
"A relentless reckoning of how we, as a species, got ourselves into the mess we're in today, . . . told with determination and in chiseled, almost literary prose."—Christoph Irmscher, Wall Street Journal

"Immensely readable. . . . Simon Lewis and Mark Maslin provide a compelling narrative, stretching from the emergence of hominins from Earth's long history some 3 million years ago, to our position today, as a species with planetary reach."—Wolfgang Lucht, Nature

"Scientists disagree about the date on which the Anthropocene began. Some say it started with the explosion of the first atomic bombs. . . . Others say it is more recent in origin and point to plastics that now cover the planet. . . . Either way, the Anthropocene's origins are viewed as being relatively recent. But Lewis and Maslin disagree. They point to a far earlier event: the colonisation of the New World by European explorers, soldiers and settlers in the 16th century."—Robin McKie, The Observer

"A highly entertaining examination of the many ways in which humans are now profoundly altering Earth."—Robin McKie, The Observer Best Books of 2018

"Tracing our environmental impacts through time, scientists Simon Lewis and Mark Maslin reveal a new view of human history and a new outlook for the future of humanity in the unstable world we have created."—Micahel Svoboday, Yale Climate Connections
 

"Like climate change itself, The Human Planet begins with an obscure squabble among scientists and then turns into a breathtaking new view of humanity's past and future as a geological and ecological force."—Crawford Kilian, The Tyee

"[Lewis and Maslin] have crafted a narrative of sweeping breadth that takes their readers from the deep geological past into the Anthropocene."—Jill S. Schneiderman, EuropeNow

"I applaud the authors for constructing a rich narrative that rivals the best of environmental history in describing and explaining the profound trends that have brought us into the Anthropocene."—Rowan Sage, Quarterly Review of Biology

"That humans now dominate the 'natural' systems of our planet is the key fact of our time--this book does a remarkable job of explaining how that came to pass, and why it matters so much."—Bill McKibben, author Falter: Has the Human Game Begun to Play Itself Out?

"Profound and thought-provoking, this book does a remarkable job explaining where the current proposal to define a new human dominated era properly fits."—Thomas E. Lovejoy, winner of the Blue Planet Prize and editor of Climate Change and Biodiversity

"Today scientists increasingly believe that we have entered a new era, the Anthropocene. In this succinct but sweeping re-evaluation of the human story, Simon Lewis and Mark Maslin show exactly why this abstract-sounding contention should radically affect our views of today and tomorrow. The Human Planet packs more ideas into a small space than I would have thought possible."—Charles C. Mann, author of The Wizard and the Prophet

"Understanding what it means for humans to have become a geological force reshaping the workings of the Earth is both a deep intellectual challenge and a political necessity. Richly thought through and provocative from its title onwards, The Human Planet rises to that challenge, bringing together Earth history and human history in a new way. Its reassessment of the past will equip its readers to understand the future—and perhaps to improve it."—Oliver Morton, author of The Planet Remade: How Geoengineering Could Change the World