Nature Shock: Getting Lost in America (Hardcover)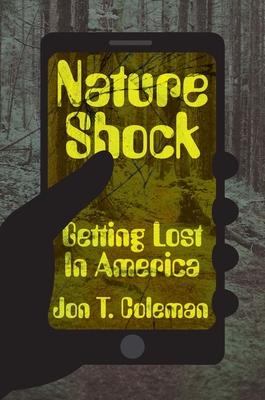 List Price: $32.00
Our Price: $30.00
(Save: $2.00 6%)
Description
---
An award‑winning environmental historian explores American history through wrenching, tragic, and sometimes humorous stories of getting lost

"Fascinating. . . . Underlying . . . is a deep belief in the importance of collaboration and cooperation between humans and their environments, as well as between humans and other humans."—Robert Macfarlane, New York Review of Books

The human species has a propensity for getting lost. The American people, inhabiting a mental landscape shaped by their attempts to plant roots and to break free, are no exception. In this engaging book, environmental historian Jon Coleman bypasses the trailblazers so often described in American history to follow instead the strays and drifters who went missing.
 
From Hernando de Soto's failed quest for riches in the American southeast to the recent trend of getting lost as a therapeutic escape from modernity, this book details a unique history of location and movement as well as the confrontations that occur when our physical and mental conceptions of space become disjointed. Whether we get lost in the woods, the plains, or the digital grid, Coleman argues that getting lost allows us to see wilderness anew and connect with generations across five centuries to discover a surprising and edgy American identity.
About the Author
---
Jon T. Coleman is professor of history at the University of Notre Dame. He is the author of two books, including Vicious: Wolves and Men in America, winner of the W. Turrentine Jackson Award from the Western History Association.
Praise For…
---
"Fascinating. . . . Underlying . . . is a deep belief in the importance of collaboration and cooperation between humans and their environments, as well as between humans and other humans."—Robert Macfarlane, New York Review of Books
 

"Contemplative and erudite. . . . Coleman's work will fascinate readers with its look at the place of wilderness in American history."—Publishers Weekly

"Nature Shock is original, compelling, deeply researched, and expansively written, showcasing Jon Coleman's signature wit and verve."—Louis Warren, author of God's Red Son: The Ghost Dance Religion and the Making of Modern America

"In an ambitious continental frame extending from the sixteenth century to the present, Nature Shock carries us through the history of getting lost in America.  This is an unconventional and deeply compelling history of American empire, nation-making, and identity seen not from the typical centers of power but rather from the unstable edges."—Samuel Truett, author of Fugitive Landscapes: The Forgotten History of the U.S.-Mexico Borderlands

"From the wanderings of Spanish explorers to the age of smartphones, Jon Coleman's Nature Shock artfully explores 'getting lost' in America and why it should matter to all of us."—William Wyckoff, author of How to Read the American West: A Field Guide

"No doubt about it, we are a nation of lost souls; in this book for our times, Jon Coleman explains brilliantly how that happened, and its consequences."—Thomas P. Slaughter, author of Exploring Lewis and Clark

"In this sweeping work, Jon T. Coleman traces what it has meant to be lost over the centuries, and introduces the remarkable individuals who experienced such wilderness. The result is an illuminating and inspirational rethinking of nature and social connection."—Louis P. Masur, Rutgers University