As the Twig Is Bent: A Memoir (Hardcover)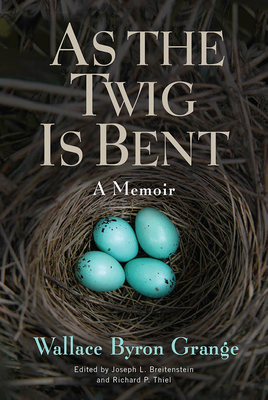 $29.95

Not On Our Shelves Now (Usually Ships in 1-5 Days)
Description
---
Wallace Byron Grange (1905–87) was an influential conservationist who worked alongside Aldo Leopold. Grange's story vividly describes his mostly idyllic childhood watching bird life in the once grand prairies just west of Chicago. He documents his family's journey and pioneering struggle to operate a farm on the logged cutover country in northern Wisconsin, a land that provided him with abundant opportunities to study the lives of wild creatures he loved most.

Written when Grange was in his sixties, As the Twig Is Bent conveys how a leading conservationist was formed through his early relationship to nature. In beautifully composed vignettes, he details encounters both profound and minute, from the white-footed mice attracted by cookie crumbs in his boyhood clubhouse to the sounds of great horned owls echoing through the wintry woods. As he develops his own understanding of the natural world, he comes to an awareness of the dramatic and devastating role of humankind on ecosystems. Grange's poignant observations still resonate today amid global conversations about the fate of our natural resources and climate change.
About the Author
---
Joseph L. Breitenstein is a licensed psychologist and professor at Luther College. His professional interests include the intersections between psychology and environmentalism. Richard P. Thiel is active with the Timber Wolf Information Network and the International Wolf Center. His books include Keepers of the Wolves and Wild Wolves We Have Known.
Praise For…
---
"Original and refreshing, reminiscent of the poignant writings of Increase Lapham, Fran Hamerstrom, and John Muir. Grange does a superb job of portraying societal life a century ago in Illinois, and the pioneering life of the Grange family in the 'cutover country' in northern Wisconsin."—Sumner Matteson, author of Afield: Portraits of Wisconsin Naturalists, Empowering Leopold's Legacy

"An engaging memoir of the making of a devoted conservationist, evocative of the unhurried pace of a bygone era. Grange shares with us a voluminous, detailed treasure trove of experiences that reveal the making of a man who dedicated his life to the cause of conservation."—Arthur Melville Pearson, author of Force of Nature