Climate Change and Resilience in Indiana and Beyond (Hardcover)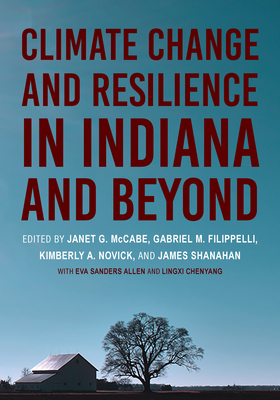 Description
---
Climate change is affecting Indiana's environment, threatening the way Hoosiers live and do business, and introducing new stresses to the state's economy, health, and infrastructure. And while scientists predict more days of extreme weather, increased public health risks, and reduced agricultural production in the coming years, Hoosiers still have a substantial say in determining their future environment.
Climate Change and Resilience in Indiana and Beyond confirms that Indiana can rise to meet this threat. The culmination of Indiana University's Prepared for Environmental Change Grand Challenge, this collection showcases how scientists, policymakers, communicators, and others are working hard to protect Indiana's economy and way of life by becoming more resilient. Researchers are creating new environmental resilience frameworks, building on years of existing research on how ecosystems can adapt, how social systems process threats in order to change, and how individuals themselves fit into the larger picture. In addition to presenting research results, Climate Change and Resilience in Indiana and Beyond provides clear examples of how Hoosiers can make a difference by reducing risks, lessening the harmful impacts of climate change, and preparing for the unavoidable.
What emerges in these pages is a hopeful, optimistic picture of how resilience is generalizable across systems--from forests to farms to cities--and how Hoosiers are mobilizing this resilience in the face of climate change.
About the Author
---
Janet G. McCabe joined the Environmental Resilience Institute in 2017 as its founding Assistant Director of Implementation and served as its Director from 2019 to 2021. She has served as Professor of Practice at the IU McKinney School of Law and has held senior positions in the US Environmental Protection Agency and Indiana Department of Environmental Management.Gabriel M. Filippelli is Chancellor's Professor in the Department of Earth Sciences at Indiana University--Purdue University Indianapolis (IUPUI), Director of the Center for Urban Health, and Executive Director of ERI. He is an environmental scientist, with research spanning the fields of climate change, environmental health, and public science.Kimberly A. Novick is Associate Professor and Fischer Faculty Fellow in the O'Neill School at Indiana University, with expertise in how climate change affects eastern US ecosystems, and complementary processes by which ecosystems affect the pace of climate change.James Shanahan is Professor and Founding Dean of the IU Media School and has served as Associate Director of ERI. He is a mass media effects researcher, with a special focus on communication in relation to science and the environment.