States of Plague: Reading Albert Camus in a Pandemic (Hardcover)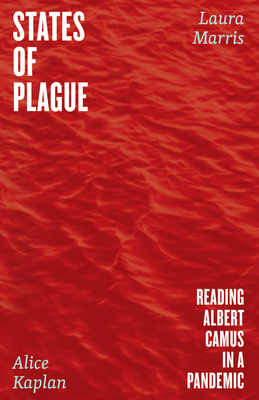 Description
---
States of Plague examines Albert Camus's novel as a palimpsest of  pandemic life, an uncannily relevant account of the psychology and politics of a public health crisis.

As one of the most discussed books of the COVID-19 crisis, Albert Camus's classic novel The Plague has become a new kind of literary touchstone. Surrounded by terror and uncertainty, often separated from loved ones or unable to travel, readers sought answers within the pages of Camus's 1947 tale about an Algerian city gripped by an epidemic. Many found in it a story about their own lives—a book to shed light on a global health crisis.

In thirteen linked chapters told in alternating voices, Alice Kaplan and Laura Marris hold the past and present of The Plague in conversation, discovering how the novel has reached people in their current moment.  Kaplan's chapters explore the book's tangled and vivid history, while Marris's are drawn to the ecology of landscape and language. Through these pages, they find that their sense of Camus evolves under the force of a new reality, alongside the pressures of illness, recovery, concern, and care in their own lives. Along the way, Kaplan and Marris examine how the novel's original allegory might resonate with a new generation of readers who have experienced a global pandemic.  They describe how they learned to contemplate the skies of a plague spring, to examine the body politic and the politics of immunity.

Both personal and eloquently written, States of Plague uncovers for us the mysterious way a novel can imagine the world during a crisis and draw back the veil on other possible futures.
About the Author
---
Alice Kaplan is the Sterling Professor of French and Director of the Whitney Humanities Center at Yale University. She is coauthor of States of Plague, with Laura Marris, and author of French Lessons, Looking for "The Stranger," and Dreaming in French, all also published by the University of Chicago Press. She has been a finalist for both the National Book Critics Circle Award and the National Book Award. She lives in Guilford, Connecticut.

Laura Marris is a writer and translator. Her recent translations include Albert Camus's The Plague, Louis Guilloux's Blood Dark, and Geraldine Schwarz's Those Who Forget. Her first solo-authored book, The Age of Loneliness, is forthcoming. She lives in Buffalo, New York.
Praise For…
---
"Camus argued that 'The true work of art is one that says the least.' La Peste is such a work, and States of Plague is a moving, thoughtful, and scrupulous examination of both the novel and its readers, the book's inheritors."
— Times Literary Supplement

"Across 13 insightful, deeply personal chapters, Kaplan and Marris explore the human side of communal trauma. Many chapters provide the sociohistorical context for understanding Camus, covering topics ranging from colonial cemeteries to toxic Oranian politics, the messy denouement of world war, and beyond. Other chapters trace the author's experiences and choices in writing the novel—his writer's block, narrative identity, and literary restraint—and how he was received by the literary establishment. Importantly, the authors avoid scholarly detachment and instead share their insightful, often vulnerable, reflections in evocative prose that serves to reinforce the deeply humanistic importance of Camus's thought."
— L.A. Wilkinson

"In this mélange of history, literary analysis, and memoir, the authors explore the intersection between a celebrated novel, current realities, scholarship, language, and the tricks that time and circumstance play on all of them. Seasoned literary historian Kaplan and poet and translator Marris, whose new translation of The Plague was published in 2021, team up to cultivate a deeper understanding of Camus' classic novel. In alternating short essays, they braid together their distinct sensibilities to offer fresh insight and added significance to a canonical mid-20th-century book. . . . This is a notable addition to the literature about an indispensable French author."
— Kirkus

"This intelligent study goes a long way in highlighting Camus's enduring legacy."
— Publishers Weekly

"I thought I knew both The Plague and what it brings to the story of our own plague experience. After reading Kaplan and Marris's States of Plague, I realize I could not have been more mistaken. This is a brilliant book that is always eloquent, often insightful, and, at times, simply heartbreaking."
— Robert Zaretsky, author of "Victories Never Last: Reading and Caregiving in a Time of Plague"

"Turning the intensity of a lockdown gaze on The Plague, Kaplan and Marris restore to Camus's constrained and unsettling allegory a world of associations, from occupied Paris in World War II to crumbling colonial cemeteries in Algiers. These erudite but highly personal reflections spiral outward from careful readings of the novel, relieving the mind like the ventilation of a long-closed room."
— Emily Ogden, author of "On Not Knowing: How to Love and Other Essays"

"In States of Plague, Kaplan and Marris combine their thought-provoking personal impressions with brilliant critical analyses based on the novel's wealth of cultural, historical, and political contexts. Their complementary readings function both as a helpful introduction to The Plague and eye-opening observations about the novel's contemporary relevance."
— Raymond Gay-Crosier, emeritus, University of Florida

"Reading this fascinating and often meditative collection of essays by two subject experts who are skilled readers and gifted writers helps us understand the sheer importance of looking. Even if metaphors fail, even if language only serves to illuminate what is impossible to beautify, seeing what is happening in the world is the only way to engage it."
— Full Stop