On Not Knowing: How to Love and Other Essays (Paperback)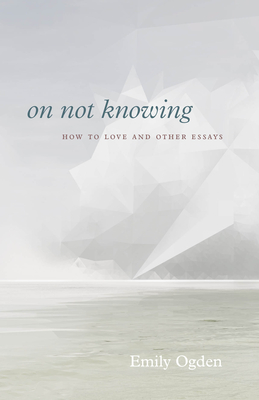 Staff Reviews
---
"Not knowing" is a state in which we all spend a lot of time (whether we admit it or not —and we should probably admit it more often). In On Not Knowing, Emily Ogden examines the many things she once didn't or still doesn't know. Odgen's writes in stunningly beautiful and clear prose on uncertainty, learning, and the wonder unlocked by knowing something new. Pre-order this book, and when it arrives in April you'll be delighted by all it has to teach you. 
— Molly
Description
---
A beautifully written suite of personal essays on the value of not knowing.

Moments of clarity are rare and fleeting; how can we become comfortable outside of them, in the more general condition of uncertainty within which we make our lives? Written by English professor Emily Ogden while her children were small, On Not Knowing forays into this rich, ambivalent space. Each of her sharply observed essays invites the reader to think with her about questions she can't set aside: not knowing how to give birth, to listen, to hold it together, to love.
 
Unapologetically capacious in her range of reference and idiosyncratic in the canon she draws on, Ogden moves nimbly among the registers of experience, from the operation of a breast pump to the art of herding cattle; from one-night stands to the stories of Edgar Allan Poe; from kayaking near a whale to a psychoanalytic meditation on drowning. Committed to the accumulation of knowledge, Ogden nonetheless finds that knowingness for her can be a way of getting stuck, a way of not really living. Rather than the defensiveness of willful ignorance, On Not Knowing celebrates the defenselessness of not knowing yet—possibly of not knowing ever. Ultimately, this book shows how resisting the temptation of knowingness and embracing the position of not knowing becomes a form of love.
About the Author
---
Emily Ogden is associate professor of English at the University of Virginia and the author of Credulity: A Cultural History of US Mesmerism, also published by the University of Chicago Press. You can find her on Twitter at @ENOgden. She lives in Charlottesville, VA. 
Praise For…
---
"The difficult lesson of Ogden's book, in whose service she dedicates her precise and poetic style, is to relinquish not just a particular mode of knowledge, but our faith in knowledge itself as the basis for a good, meaningful life."
— The Chronicle of Higher Education
"Right now, our political and aesthetic discourse seems less a genuine conversation than a competition of mutually exclusive certainties. How wonderful it is to read Ogden, a writer who says that 'the question mark's business with me will never be finished' and means it."
— The Atlantic
"Ogden's essays are remarkable for their subtle and ingenious curiosity. Her willingness to be at once candid, lucid, and utterly intriguing—in a language lyrical and exact—makes these essays irresistibly compelling. The vision and revision that is her writing renews the essay as a vital form."
— Adam Phillips, psychoanalyst and author of 'On Wanting to Change'
"
On Not Knowing
 is many things: a brilliant close reading of motherhood; a tonic counter to 'self-help' books; an intimate, unsentimental tribute to children; and an extended riff on how we make meaning with language. What is most extraordinary is how Ogden takes a surface moment of the everyday and deftly turns and deepens it until she arrives at a space of luminous complexity."
— Dana Spiotta, author of 'Wayward: A Novel'
"Ranging among subjects as various as parenthood and desire, psychoanalysis and poetry, the essays in
On Not Knowing
move by surprise, often veering in directions they hadn't let you see they were going. The only certainty in reading them is that every arrival is worth it. Ogden has a knack for developing single words and small inklings into full-blown ideas and philosophies. Her anecdotes are as unexpected, her sentences as exquisite, and her conclusions as moving as Emerson's. Surely this book secures Ogden's place as one of our finest writers: thinking with her is exhilarating."
— Erica McAlpine, author of 'The Poet's Mistake'
"Undefended, visceral, and thrilling—Ogden's book reimagines not knowing as an achievement rather than simply a predicament. She writes with the courage of something other than conviction, and with a willingness to be surprised by herself.
On Not Knowing
is a beautiful book, an essaying of experience that is responsive not just to ideas, but to the feelings which inform and depart from them."
— Matthew Bevis, author of 'Wordsworth's Fun'
"In stories, identity is adaptable, and uncertainty about who we are becomes a source of new possibility. By placing storytelling at the heart of her essayistic practice, Ogden revitalizes Montaigne's model of personal writing, bringing elements of a memoir to the genre."
— Oxford Review