Cartography: The Ideal and Its History (Paperback)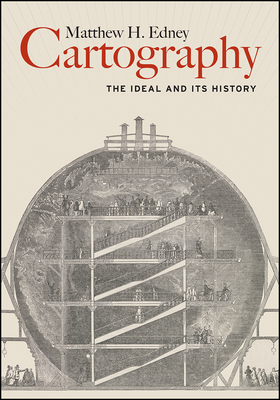 Description
---
Over the past four decades, the volumes published in the landmark History of Cartography series have both chronicled and encouraged scholarship about maps and mapping practices across time and space. As the current director of the project that has produced these volumes, Matthew H. Edney has a unique vantage point for understanding what "cartography" has come to mean and include.
 
In this book Edney disavows the term cartography, rejecting the notion that maps represent an undifferentiated category of objects for study. Rather than treating maps as a single, unified group, he argues, scholars need to take a processual approach that examines specific types of maps—sea charts versus thematic maps, for example—in the context of the unique circumstances of their production, circulation, and consumption. To illuminate this bold argument, Edney chronicles precisely how the ideal of cartography that has developed in the West since 1800 has gone astray. By exposing the flaws in this ideal, his book challenges everyone who studies maps and mapping practices to reexamine their approach to the topic. The study of cartography will never be the same.
About the Author
---
Matthew H. Edney is Osher Professor in the History of Cartography at the University of Southern Maine. He is the author of Cartography: The Ideal and Its History and Mapping an Empire: The Geographical Construction of British India, 1765–1843, both also published by the University of Chicago Press.
Praise For…
---
"[An] intellectually bracing and marvellously provocative account of how the mythical ideal of cartography developed over time and, in the process, distorted our understanding of maps. . . . He has convincingly overturned the presumptions of an entire discipline and those who both practise and study it. . . . Edney will undoubtedly remain at the heart of navigating our way through the seductive, perplexing and endlessly changing landscape of maps."
— Times Higher Education

"What is at stake is addressed in the short final chapter. The ideal of cartography is a sleight of hand because it conceives maps as crystallized depictions of the world that can be read back by map users and therefore diverts attention from the processes of their production, circulation and effects. Edney has written a powerful book, often laced with humour and gnomic chapter headings (my favourite is 'cartography is a map of mapping'). Edney has done a great job of bringing his arguments to a wider audience, and it will be interesting to see where he goes next."
— Imago Mundi

"Edney's Cartography provides a corrective, a reimagined intellectual framework for maps and mapping that will, when engaged and operationalized, greatly broaden our understanding of the wondrous array of inscriptions and practices we call maps and mapping."
— Isis

"Cartography concisely and clearly captures not just the main strands of Edney's own work over the last several decades, but also the major questions facing map historians today. Filled with original and exciting scholarship, this book will be equally important for specialists in map history and for those geographers, humanists, and mapmakers who want a rigorous discussion of how to understand and analyze maps."
— William Rankin, author of After the Map: Cartography, Navigation, and the Transformation of Territor

"Edney commands a breathtaking view of the history of map making. From his years of spadework in archives and classrooms to his perch at the helm of the massive History of Cartography project, he has gradually come to see fundamental problems in the very categories through which the cartographic enterprise is conventionally understood. Cartography: The Ideal and Its History offers both a sharp critique of current practice and a call to reorient the field of map studies. A landmark contribution."
— Kären Wigen, coeditor of Cartographic Japan

"For two decades Edney has produced thoughtful and penetrating scholarship. In his most ambitious work to date, he questions the very concept of 'cartography' to argue that this flawed ideal has hobbled the study of maps. With direct and tenacious prose, Edney has written an essential work that challenges us to grapple with the fundamental assumptions that undergird the field."
— Susan Schulten, author of A History of America in 100 Maps

"Without doubt, Matthew H. Edney can be considered one of the most influential and productive map historians of the present."
— American Association of Geographers Review of Books