The Book of Beetles: A Life-Size Guide to Six Hundred of Nature's Gems (Hardcover)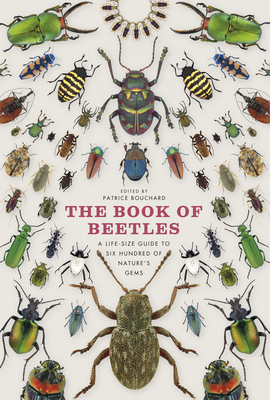 Description
---
When renowned British geneticist J. B. S. Haldane was asked what could be inferred about God from a study of his works, Haldane replied, "An inordinate fondness for beetles." With 350,000 known species, and scientific estimates that millions more have yet to be identified, their abundance is indisputable as is their variety.  They range from the delightful summer firefly to the one-hundred-gram Goliath beetle. Beetles offer a dazzling array of shapes, sizes, and colors that entice scientists and collectors across the globe.

The Book of Beetles celebrates the beauty and diversity of this marvelous insect. Six hundred significant beetle species are covered, with each entry featuring a distribution map, basic biology, conservation status, and information on cultural and economic significance. Full-color photos show the beetles both at their actual size and enlarged to show details, such as the sextet of spots that distinguish the six-spotted tiger beetle or the jagged ridges of the giant-jawed sawyer beetle. Based in the most up-to-date science and accessibly written, the descriptive text will appeal to researchers and armchair coleopterists alike.

The humble beetle continues to grow in popularity, taking center stage in biodiversity studies, sustainable agriculture programs, and even the dining rooms of adventurous and eco-conscious chefs. The Book of Beetles is certain to become the authoritative reference on these remarkably adaptable and beautiful creatures.
About the Author
---
Patrice Bouchard is research scientist and curator of Coleoptera at the Canadian National Collection of Insects, Arachnids, and Nematodes. He is the coauthor of Family-Group Names in Coleoptera and the award-winning Tenebrionid Beetles of Australia. Bouchard serves on the editorial boards of The Canadian Entomologist, ZooKeys, and Zoological Bibliography.
Praise For…
---
"Profiles 600 of the most stunning, most wonderfully adapted beetles around. Each is photographed at its actual size, then in a magnified version—from the tiny beaver beetle, all the way up to the enormous and aptly named royal goliath beetle. The result is a work that is nothing short of magnificent."
— Wired

"Photographs of more than 600 colorful, glossy species, resembling bejeweled broaches more than creepy crawlies, are presented at actual size."
— Publishers Weekly

"A colourful and comprehensive guide to the bug that makes up more than a quarter of the world's animals."
— Globe and Mail

"A beetle with 'dense, decumbent golden pubescence' inhabiting an air bubble in submerged wood: what's not to love? Imaged in glorious, furry close-up, Lutrochus germari is just one of the 600 species (out of a total of 400,000) featured in this paean to the insects that entranced evolutionary-theory pioneer Alfred Russel Wallace."
— Nature

"Although 656 pages and 2,400 color plates cannot begin to capture the immense biological diversity of the Coleoptera—in form, taxonomic richness, or natural history—the meticulous work of the contributing authors is more than apparent. Their compendium features beautiful, high-resolution photographs of museum specimens, complemented by carefully made distribution maps, refined line drawings, scaled "actual size" images, and just enough text. These elements make paging through The Book of Beetles a treat, and a trip around the world well worth taking."
— American Entomologist

"An ambitious undertaking."
— Choice

"A book that can be read much as one might open drawers in an entomological collection, with the benefit of also having a studied natural historian at your shoulder to tell you what you are looking at. This book is a sheer pleasure to read and to look at, and everyone will learn from it."
— Entomological Society of Canada

"A spectacular sampling of the more than 350,000 species of beetles on earth. . . . The book is not only an excellent reference, but a joy to peruse."
— BeautifulNow