Henry And June: From "A Journal of Love" -The Unexpurgated Diary of Anaïs Nin (1931-1932) (Paperback)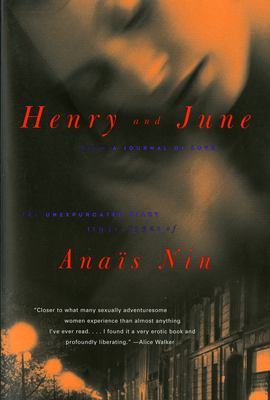 Description
---
The best-selling, uncensored diary of Anaïs Nin during the year she spent with Henry Miller and his wife in Paris—a thrilling and passionate account of sexual awakening.

From the original, uncensored journals of Anaïs Nin, Henry and June spans a single year in Nin's life when she discovers love and torment in one insatiable couple. From later 1931 to the end of 1932, Nin falls in love with Henry Miller's writing and his wife June's striking beauty. When June leaves Paris for New York, Henry and Anaïs begin a fiery affair that liberates her sexually and morally, but also undermines her marriage and eventually leads to her psychoanalysis. As she grapples with her own conscience, a single question dominates her thoughts: What will happen when June returns to Paris? An intimate story of one woman's sexual awakening, Henry and June exposes the pain and pleasure of a single person trapped between two loves.
About the Author
---
ANAÏS NIN (1903-1977) was born in Paris and aspired at an early age to be a writer. An influential artist and thinker, she was the author of several novels, short stories, critical studies, a collection of essays, nine published volumes of her Diary, and two volumes of erotica, Delta of Venus and Little Birds. 
Praise For…
---
"Henry and June is in essence a record of Nin's erotic awakening…At once effusive and measured, lyrical and taut, this slim volume is the record of a woman struggling for clarity in the dialogue with herself."—The New York Times Book Review "Tightly drawn and full of passion."—The Cleveland Plain Dealer   "Nin's own sense of her feminine nature splendidly revealed."—Booklist   —