Red Brick, Black Mountain, White Clay: Reflections on Art, Family, and Survival (Paperback)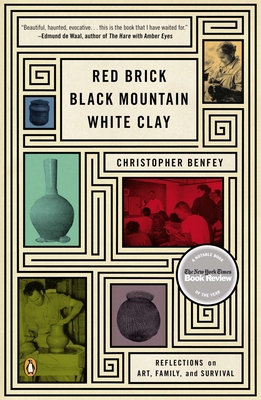 Description
---
"Beautiful, haunted, evocative and so open to where memory takes you. I kept thinking that this is the book that I have waited for: where objects, and poetry intertwine. Just wonderful and completely sui generis."  (Edmund de Waal, author of The Hare with Amber Eyes)

An unforgettable voyage across the reaches of America and the depths of memory, this generational memoir of one incredible family reveals America's unique craft tradition. In Red Brick, Black Mountain, White Clay, renowned critic Christopher Benfey shares stories—of his mother's upbringing in rural North Carolina among centuries-old folk potteries; of his father's escape from Nazi Europe; of his great-aunt and -uncle Josef and Anni Albers, famed Bauhaus artists exiled at Black Mountain College—unearthing an ancestry, and an aesthetic, that is quintessentially American. With the grace of a novelist and the eye of a historian, Benfey threads these stories together into a radiant and mesmerizing harmony.
About the Author
---
Christopher Benfey is the Mellon professor of English at Mount Holyoke College and the author of the award-winning book A Summer of Hummingbirds. He is a frequent contributor to the New York Times Book Review, the New Republic, and the New York Review of Books. He lives in Amherst, Massachusetts.
Praise For…
---
A New York Times Notable Book of 2012

"To paraphrase Emily Dickinson only slightly, there is no vessel like a book. Especially when it's as well wrought and far-sailing as Christopher Benfey's Red Brick, Black Mountain, White Clay, a book about earthen vases, epic voyages and ancestral blood. Part memoir, part family saga, part travelogue, part cultural history, it takes readers on a peripatetic ramble across America and beyond."
--Adam Goodheart, New York Times Book Review

"A book like no other... Red Clay, Black Mountain, White Clay provides a new and useful way to examine American culture, where it's been, and where it might go. Call it what you will, but you can't ask more of a book than that."
--Malcolm Jones, The Daily Beast

"[Benfey] spins a grand web out of his own fascinating lineage… In this revelatory mosaic of lives, Benfey reclaims radiant swathes of history, traces hidden links between remarkable innovators, and celebrates serendipity, resilience, and the refulgence of art."
--Booklist (starred)

"Most memoirs are mush. Given the tender emotions, fragile reminiscences and flights of fancy that tend to flit and twirl within your average autobiography, the genre is known for its shifting, dreamlike core, not its steely spine. Christopher Benfey is out to change all that with Red Brick, Black Mountain, White Clay, a new family memoir that's as tough as nails. It is grounded in solid things as well as wispy memories. In hard edges as much as subjective musings… dramatic and poignant."
--Chicago Tribune

"[A] lyrical but unsentimental family memoir, taking in art, memory and time… Lively, intelligent and interesting—a look inside not just a single family, but also an entire artistic tradition now largely forgotten."
--Kirkus

"Beautiful, haunted, evocative and so open to where memory takes you. I kept thinking that this is the book that I have waited for: where place, objects, and poetry intertwine. Just wonderful and completely sui generis."
--Edmund de Waal, author of The Hare with Amber Eyes

"Christopher Benfey takes us on a journey of discovery that meanders into the most curious corners of family and world history, from colonial America to Nazi Germany to Mexico, Japan, and beyond. And what a splendid cast of characters: brickmakers, Quakers, erudite scholars, famous artists and obscure craftsmen, explorers, poets, and Mr. Benfey's own parents, whom he portrays with an amused and deeply touching affection. His prose is often delicious. This is a fascinating and charming book."
--Stephen Mitchell