The Inheritance of Rome: Illuminating the Dark Ages 400-1000 (The Penguin History of Europe) (Paperback)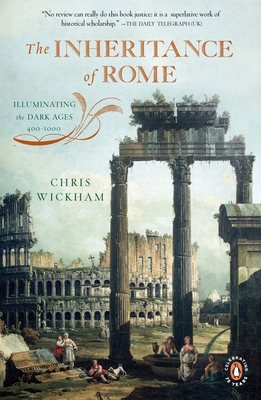 $23.00

Not On Our Shelves Now (Usually Ships in 1-5 Days)
Description
---
"The breath  of reading is astounding, the knowledge displayed is awe-inspiring and the attention quietly given to critical theory and the postmodern questioning of evidence is both careful and sincere."--The Daily Telegraph (UK)

"A superlative work of historical scholarship."--Literary Review (UK)

A unique and enlightening look at Europe's so-called Dark Ages; the second volume in the Penguin History of Europe

Defying the conventional Dark Ages view of European history between A.D. 400 and 1000, award-winning historian Chris Wickham presents The Inheritance of Rome, a work of remarkable scope and rigorous yet accessible scholarship. Drawing on a wealth of new material and featuring a thoughtful synthesis of historical and archaeological approaches, Wickham agues that these centuries were critical in the formulation of European identity. From Ireland to Constantinople, the Baltic to the Mediterranean, the narrative constructs a vivid portrait of the vast and varied world of Goths, Franks, Vandals, Arabs, Saxons, and Vikings. Groundbreaking and full of fascinating revelations, The Inheritance of Rome offers a fresh understanding of the crucible in which Europe would ultimately be created.
About the Author
---
Chris Wickham is Chichele Professor of Medieval History at the University of Oxford and a Fellow of All Souls College. His book Framing the Middle Ages won the Wolfson Prize, the Deutscher Memorial Prize and the James Henry Breasted Prize of the American Historical Association. He lives in Oxford, England.
Praise For…
---
"The breath  of reading is astounding, the knowledge displayed is awe-inspiring and the attention quietly given to critical theory and the postmodern questioning of evidence is both careful and sincere." -The Daily Telegraph (UK)

"A superlative work of historical scholarship." -Literary Review (UK)