A Place of My Own: The Architecture of Daydreams (Paperback)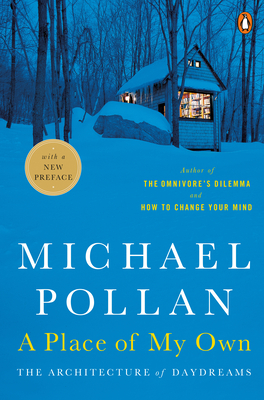 Description
---
"A glorious piece of prose . . . Pollan leads readers on his adventure with humor and grace." —Chicago Tribune

A captivating personal inquiry into the art of architecture, the craft of building, and the meaning of modern work

"A room of one's own: Is there anybody who hasn't at one time or another wished for such a place, hasn't turned those soft words over until they'd assumed a habitable shape?"

When Michael Pollan decided to plant a garden, the result was the acclaimed bestseller Second Nature. In A Place of My Own, he turns his sharp insight to the craft of building, as he recounts the process of designing and constructing a small one-room structure on his rural Connecticut property—a place in which he hoped to read, write, and daydream, built with his own two unhandy hands.

Michael Pollan's unmatched ability to draw lines of connection between our everyday experiences—whether eating, gardening, or building—and the natural world has been the basis for the popular success of his many works of nonfiction, including the genre-defining bestsellers The Omnivore's Dilemma and In Defense of Food. With this updated edition of his earlier book A Place of My Own, readers can revisit the inspired, intelligent, and often hilarious story of Pollan's realization of a room of his own—a small, wooden hut, his "shelter for daydreams"—built with his admittedly unhandy hands. Inspired by both Thoreau and Mr. Blandings, A Place of My Own not only works to convey the history and meaning of all human building, it also marks the connections between our bodies, our minds, and the natural world.
About the Author
---
Michael Pollan is the author of seven previous books, including Cooked, Food Rules, In Defense of Food, The Omnivore's Dilemma and The Botany of Desire, all of which were New York Times bestsellers. He's also the author of the audiobook Caffeine: How Caffeine Created the Modern World. A longtime contributor to the New York Times Magazine, he also teaches writing at Harvard and the University of California, Berkeley. In 2010, TIME magazine named him one of the one hundred most influential people in the world.
Praise For…
---
"A glorious piece of prose . . . Pollan leads readers on his adventure with humor and grace." —Chicago Tribune

"[Pollan] alternates between describing the building process and introducing informative asides on various aspects of construction. These explanations are deftly and economically supplied. Pollan's beginner status serves him well, for he asks the kind of obvious questions about building that most readers will want answered." —The New York Review of Books

"By shrewdly combining just the right mix of personal reflection, architectural background, and nuts-and-bolts detail, Michael Pollan enables us to see, feel, and understand what goes into the building of a house. The result is a captivating and informative adventure." —John Berendt, author of Midnight in the Garden of Good and Evil

"An utterly terrific book . . . an inspired meditation on the complex relationship between space, the human body and the human spirit." —Francine du Plessix Gray

"A tour de force . . . [Pollan] writes gracefully and humanely. He is a true carpenter-craftsman of prose." —Phillip Lopate