Returning Light: Thirty Years on the Island of Skellig Michael (Hardcover)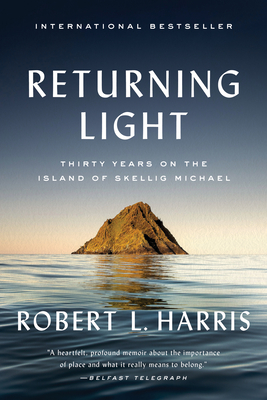 Description
---
The Acclaimed International Bestseller
"It is impossible to do justice to the beauty of Returning Light. The whole book is a poem." — New York Times Book Review
By the lighthouse keeper on the remote, otherworldly Irish island of Skellig Michael, a "profound memoir about the importance of place and what it really means to belong" (Belfast Telegraph)
"On Skellig Michael, thousands of birds appear and disappear, erecting towers, coming together in wings of movement which build and unravel over the empty sea. Often, no one else is there to stand beside me on the island. The mind wanders; links with the past are easily made; ancient ways of viewing things come alive."
In 1987, Robert Harris happened upon an unusual job posting in the local paper—a new warden service was being set up on the island of Skellig Michael, and the deadline was imminent. Just weeks later he was on his way to set up camp in one of Ireland's most remote locations, unaware that he would be making that same journey every May for the next 30 years.
Here he transports us to the otherworldly island, a place that is teeming with natural life, including curious puffins that like to visit his hut. From the precipice he has observed a coastline that is relatively unchanged for the last thousand years—a beacon of equilibrium in an ever-changing world.
But the island can be fierce too. It's inhabitable for only five months of the year, and solitude can quickly become isolation as bad weather rolls in to create a veil between Skellig Michael and the rest of the world, when the dizzying terrain can become a very real threat to life.
A beautiful and evocative work of nature writing, Returning Light is an extraordinary memoir about the profound effect a place can have on us, and how a remote location can bring with it a great sense of belonging.
About the Author
---
Robert L. Harris was appointed to the warden service on Skellig Michael, County Kerry, Ireland, in 1987, where he has been managing the guiding system and monitoring the island for over thirty years. He has lived most of his life near the sea and on islands, and he has a great interest in both monastic and natural history. He spends May to October on Skellig Michael when the island is accessible, and in winter months lives at his home in County Leitrim with his wife, Maigread. Returning Light is his first book.
Praise For…
---
"It is impossible to do justice to the beauty of Returning Light. The whole book is a poem." — Margaret Renkl, New York Times Book Review
"A heartfelt, profound memoir about the importance of place and what it really means to belong." — Belfast Telegraph
"The fascination of Returning Light, ironically, is not the 'turrets and crags' of the rock but Harris's approach to understanding the psyche and how it responds to a way of living, monastic in some aspects, but without the community. ... Reading Returning Light is a spiritual experience and one that should be proselytised throughout Ireland." — Irish Examiner?
"Harris writes beautifully." — Irish Times
"Harris seduces with the lyrical opening pages. …Those enamored with the ethereal will be captivated." — Kirkus Reviews