Journeying Through the Invisible: The Craft of Healing With, and Beyond, Sacred Plants, as Told by a Peruvian Medicine Man (Hardcover)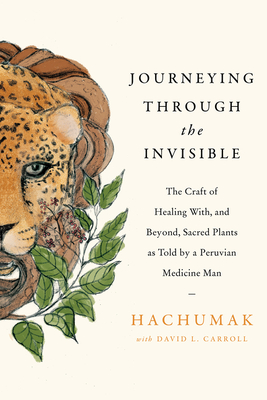 Description
---
Journey into the world of Ayahuasca and healing.
A mysterious and powerful plant medicine with curative powers that is drunk as a tea during a sacred ceremony, Ayahuasca has been known to change people's lives dramatically. But what was once a healing experience practiced only by Indigenous South Americans—and sought out by the adventurous few—has, in the past fifty years, become increasingly popular around the world.
Hachumak, a Peruvian medicine man, has been practicing traditional healing arts in his country for more than twenty years. His unique approach is based on ritualistic simplicity and highlights the essence of the Art, which includes the borrowed forces from Nature. In this remarkable book, he shares his knowledge and experiences to broaden our understanding of this powerful medicine and protect it from misuse and exploitation.
Whether you are among the uninitiated and curious, or a seasoned journeyer, you will gain a deeper understanding of what shamanism is and how and why it works, as well as its possibilities and limitations. Hachumak reveals his own path to becoming a shaman and explains how a well-crafted Ayahuasca ceremony unfolds when run by an experienced curandero. He describes in detail what to expect—both physically and psychologically—while under the guidance of the sacred plants.
Central to the message of this book, Hachumak introduces his concepts of Soul Consciousness and Suffering Consciousness, which are central to his message and key to understanding the deep healing work that he performs while also provide new insights for personal self-reflection. Suffering Consciousness keeps us stuck in our negative ways, but when Soul Consciousness is awakened during a ceremony or spiritual moment, our entire being awakens, and we are shown the way to live according to the dictates of our conscience and the teachings of the spirits. With Hachumak as our experienced and trusted guide, Journeying Through the Invisible offers a new and healing way of seeing ourselves and the world around us. 
About the Author
---
Hachumak is a Peruvian Medicine man who lives between Lima, the North Coast, and the Amazon region. In addition to his healing practices, he is working to protect a section of the rainforest and doing research about growing a variety of sacred and medicinal plants. Hachumak is also involved in educational activities about the preservation of the traditional healing arts and the negative impact of incautious shamanic tourism.
David L. Carroll received his BA magna cum laude from Harvard University and worked for an MA in archaeology at Columbia University. Mr. Carroll has written forty published books, the majority of which deal with health, self-help, and spirituality, and has written nine television screenplays. He lives in New York.
Praise For…
---
"Journeying Through the Invisible enchanted me from the first page. Hachumak, a renowned healer, invites us into his invisible world, where plants speak, rocks communicate, and the ground shifts below our feet to help guide our path. Hachumak spent years in the Peruvian jungle acquiring this wisdom, a blend of philosophy, magic, botany, and the sacred healing arts. The question woven throughout is: What does it mean to live a meaningful, open, and interconnected life? This book—mystical and mysterious yet grounded in experience—opened my mind to the awesome possibilities in our world." — Susannah Cahalan, New York Times bestselling author of Brain on Fire and The Great Pretender
"In Journeying Through the Invisible, Hachumak gives us a grounded, accessible, and timely report from the land between worlds. Combining humility, humor, and straight-talk, he shares his own fascinating life bridging Indigenous and colonial experience. In a world with too much of everything, this is an indispensable guidebook to 'spiritual minimalism.'"  — Jamie Wheal, author of Recapture the Rapture and coauthor of Stealing Fire