Ali's Well That Ends Well: Tales of Desperation and a Little Inspiration (Hardcover)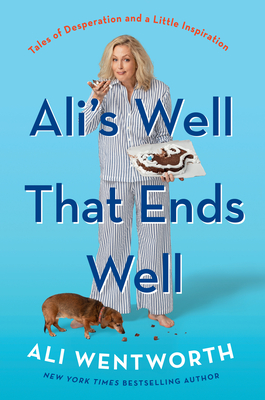 $26.99

Not On Our Shelves Now (Usually Ships in 1-5 Days)
Description
---
NEW YORK TIMES BESTSELLER
Bestselling author Ali Wentworth offers a comedic look at family, friendship, and lessons learned during the Covid-19 pandemic in her new collection of laugh-out-loud comic vignettes.
Like many, Ali Wentworth spent the pandemic seesawing between highs, lows, and baking an unnecessary amount of chocolate cake. Between binging every tv show in existence to conquering TikTok to becoming a (semi) empty-nester, Ali experienced her share of turmoil (including an early case of Covid), but she also grew a little, learned a lot, and found comfort in some unexpected people and places.
In Ali's Well That Ends Well, Wentworth turns her gimlet eye to the year no one saw coming. With her signature irreverent style, she shares the most hysterical, absurd, and sometimes trying episodes that her family endured during the terrible global pandemic. Thoroughly relatable, absolutely charming, and filled with moments both hilarious and poignant, this terrific collection once again showcases the comedic genius of a beloved star who is "the girlfriend you want to have a glass of wine with, the one who makes you laugh because she sees the funny and the absurd in everything" (Huffington Post).
About the Author
---
Ali Wentworth is the author of Ali in Wonderland and Happily Ali After. The star of the comedy series Nightcap, she made a name for herself on the sketch comedy show In Living Color, and her film credits include Jerry Maguire, The Real Blonde, Office Space, and It's Complicated. A native of Washington, D.C., she lives in New York City with her husband, George Stephanopoulos, and their two daughters. Follow Ali on Twitter: @AliEWentworth
Praise For…
---
"You know I love a funny woman who can be so candid, honest, and poignant—and still make me laugh!" — Busy Phillips
"Only Ali can mine the humor and poignancy of a pandemic. It is so insightful and so damn funny! I want to go clamming with her!" — Molly Shannon
"In the latest installment of her best-selling life-as-Ali chronicles, Ali's Well That Ends Well, Ali Wentworth takes us once again into her delightful and dizzying world. But this time we get right into bed with her—her sick bed, that is—as she battles aches, fears and lockdown-delirium as an early victim of Covid. But in Ali's hilariously deft hands, the frightening ordeal is braided with thoughtful life lessons. I loved this book." — Marlo Thomas
"Wentworth strikes gold in this hilarious, touching, and wonderfully frank look at her life during the first year of the Covid-19 pandemic. . . . Throughout, Wentworth delivers her quips and quibbles with a perceptive insight that's sure to keep fans entertained while knowingly nodding their heads. Life for Wentworth is one big adventure, and lucky for readers, she brings them along for the ride." — Publishers Weekly (starred review)
"Laugh-out-loud. . . . A light, amusing work for fans of Wentworth's quirky sense of humor." — Kirkus Reviews
"Ali is still one of the funniest people I've ever met. She's the fizz in the flat water of life." — Jerry Seinfeld