The Essential T.S. Eliot (Hardcover)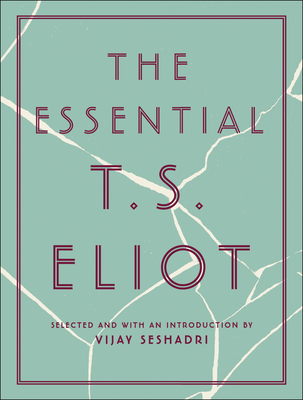 $25.99

Not On Our Shelves Now (Usually Ships in 1-5 Days)
Description
---
A selection of the most significant and enduring poems from one of the twentieth century's major writers, chosen and introduced by Vijay Seshadri

T.S. Eliot was a towering figure in twentieth century literature, a renowned poet, playwright, and critic whose work—including "The Love Song of J. Alfred Prufrock" (1915), The Waste Land (1922), Four Quartets (1943), and Murder in the Cathedral (1935)—continues to be among the most-read and influential in the canon of American literature.
The Essential T.S. Eliot collects Eliot's most lasting and important poetry in one career-spanning volume, now with an introduction from Vijay Seshadri, one of our foremost poets.
About the Author
---
T. S. Eliot, (1888-1965) recast 20th century English poetry with a whole new vocabulary of technique, giving voice to a bold, vibrantly original Modernist style. In addition to his poetry, his body of work includes many landmark critical essays, as well as plays such as The Cocktail Party and Murder in the Cathedral. In 1948, he won the Nobel Prize for Literature.
Praise For…
---
"Vijay Seshadri's Introduction to Eliot is one of the best things that I've ever read on Eliot.  Maybe the best—an astonishment, after a lifetime of reading about Eliot.  Sample: "'The Waste Land' is overpowering in its sense of the isolation of the spirit trapped in violent materiality." I don't know of another essay that so compellingly sets out how unique, how bold the poems are, how radical." — Frank Bidart