Hello, Universe: A Newbery Award Winner (Paperback)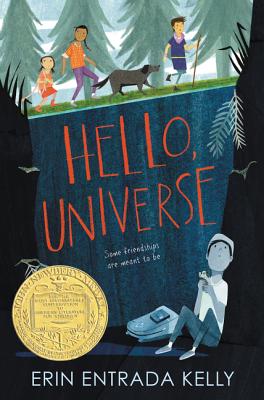 Description
---
Winner of the Newbery Medal
"A charming, intriguingly plotted novel."—Washington Post
Newbery Medalist Erin Entrada Kelly's Hello, Universe is a funny and poignant neighborhood story about unexpected friendships.
Told from four intertwining points of view—two boys and two girls—the novel celebrates bravery, being different, and finding your inner bayani (hero). "Readers will be instantly engrossed in this relatable neighborhood adventure and its eclectic cast of misfits."—Booklist
In one day, four lives weave together in unexpected ways. Virgil Salinas is shy and kindhearted and feels out of place in his crazy-about-sports family. Valencia Somerset, who is deaf, is smart, brave, and secretly lonely, and she loves everything about nature. Kaori Tanaka is a self-proclaimed psychic, whose little sister, Gen, is always following her around. And Chet Bullens wishes the weird kids would just stop being so different so he can concentrate on basketball.
They aren't friends, at least not until Chet pulls a prank that traps Virgil and his pet guinea pig at the bottom of a well. This disaster leads Kaori, Gen, and Valencia on an epic quest to find missing Virgil. Through luck, smarts, bravery, and a little help from the universe, a rescue is performed, a bully is put in his place, and friendship blooms.
The acclaimed and award-winning author of Blackbird Fly and The Land of Forgotten Girls writes with an authentic, humorous, and irresistible tween voice that will appeal to fans of Thanhha Lai and Rita Williams-Garcia.
"Readers across the board will flock to this book that has something for nearly everyone—humor, bullying, self-acceptance, cross-generational relationships, and a smartly fateful ending."—School Library Journal
About the Author
---
Erin Entrada Kelly was awarded the Newbery Medal for Hello, Universe and a Newbery Honor for We Dream of Space. She grew up in Lake Charles, Louisiana, and now lives in Delaware. She is a professor of children's literature in the graduate fiction and publishing programs at Rosemont College, where she earned her MFA, and is on the faculty at Hamline University. Her short fiction has been nominated for the Philippines Free Press Literary Award for Short Fiction and the Pushcart Prize. Before becoming a children's author, Erin worked as a journalist and magazine editor and received numerous awards for community service journalism, feature writing, and editing from the Louisiana Press Association and the Associated Press.
Erin Entrada Kelly's debut novel, Blackbird Fly, was a Kirkus Best Book, a School Library Journal Best Book, an ALSC Notable Book, and an Asian/Pacific American Literature Honor Book. She is also the author of The Land of Forgotten Girls, winner of the Asian/Pacific American Award for Literature; You Go First, a Spring 2018 Indie Next Pick; Lalani of the Distant Sea, an Indie Next Pick; Those Kids from Fawn Creek, named to numerous best-of-the-year lists; and three acclaimed novels for younger readers, Maybe Maybe Marisol Rainey, Surely Surely Marisol Rainey, and Only Only Marisol Rainey, which she also illustrated. She lives in Delaware.
Isabel Roxas is an author and illustrator creating books for young readers. Originally from Manila, she is now based in New York City, completing the third installment of her award-winning graphic novel series The Adventures of Team Pom.
Praise For…
---
"A charming, intriguingly plotted novel by Erin Entrada Kelly. ...As she skillfully intercuts these four narratives, Kelly builds suspense and fosters empathy for her characters...As the connections deepen, it seems that this "big, mysterious, fickle" universe might harbor friendship and self-awareness for each." — Washington Post
★ "Kelly's inventive story...is told from several supremely well-crafted perspectives. …The short chapters, compelling characters, and age-appropriate suspense will hook young readers immediately. …An original and resonant exploration of interconnectedness and friendship." — Kirkus Reviews (starred review)
★ "Four middle-schoolers' fates intertwine one summer in Kelly's touching tale of friendship. . . . Chapters alternate between the four kids' perspectives, infusing the story with their unique interests, backgrounds, beliefs, and doubts. …Readers will be instantly engrossed in this relatable neighborhood adventure and its eclectic cast." — Booklist (starred review)
★ "Plucky protagonists and a deftly woven story will appeal to anyone who has ever felt a bit lost in the universe. Readers across the board will flock to this book that has something for nearly everyone—humor, bullying, self-acceptance, cross-generational relationships, and a smartly fateful ending." — School Library Journal (starred review)
★ "Kelly offers up a charming novel about a serendipitous friendship that forms among a trio of sixth graders after a bully's heartless act brings them together. ...Infused with humor and hope, this book deftly conveys messages of resilience and self-acceptance through simple acts of everyday courage." — Publishers Weekly (starred review)
"Kelly creates rich and distinctive characters…through Kelly's playful, inventive plotting, Virgil, Valencia, Kaori and Chet all confront 'the universe' in their own way. In the process, Kelly gives this hope to young readers: we can each discover our inner hero and transform even our toughest struggles." — Shelf Awareness
"Told in alternating perspectives of the three kid-heroes and one villain...the children's inner lives are distinctive, and each rings true." — Horn Book Magazine
★ "Through Kelly's playful, inventive plotting, Virgil, Valencia, Kaori and Chet all confront 'the universe' in their own way. In the process, Kelly gives this hope to young readers: we can each discover our inner hero and transform even our toughest struggles by...reaching out to friends and loved ones." — Shelf Awareness (starred review)
"Folklore, fairy tales, astrology, mysticism and dreams all mingle together to create a wonderful, fantastical and unique world...there is so much for every reader contained within." — BookPage
"Fate seems to be trying to bring Valencia and Virgil together, according to Kaori, but it's sure not taking any sort of direct route. …There's a touch of Snyder's classic The Egypt Game here, as a group of disparate youngsters make their own maybe-magic…and find surprising bonds." — Bulletin of the Center for Children's Books
"Fate—or something—works in surprising ways in this funny, empathetic look at connecting with others in a universe often harsh and inscrutable but, happily, just as often benevolent." — Cleveland Plain Dealer
"Suspenseful, quirky and heartwarming, Hello, Universe makes the world a little smaller, and we are better for that." — NPR